Is it just me, or does Christmas already seem like it was months ago? It's probably a case of the January blues, but it seriously seemed to fly by. Which is exactly why it's important to look forward to something, and that something is Valentine's Day!
I loved experimenting with lots of Valentine's recipes last year, including Love Heart Rice Krispie Treats, Valentine's Brownie Bites and Red Velvet Cookies. So this year I knew I needed to create something equally delicious.
Enter sugar cookies.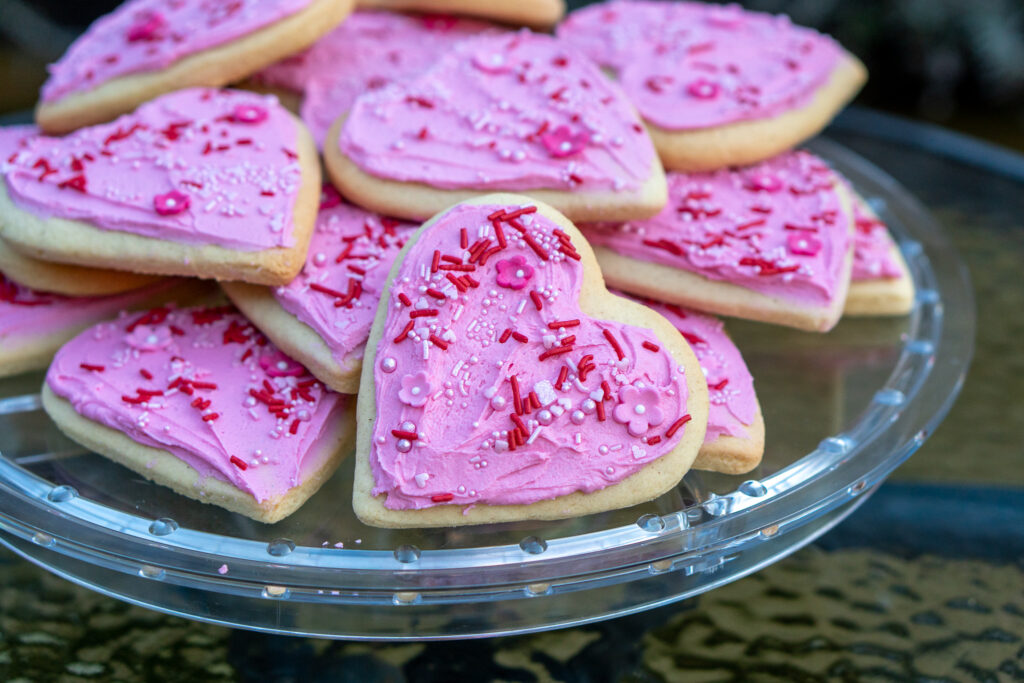 These are typically an American treat that I tried for the first time in November. My husband and I took a little trip to Target while we were in NYC (which FYI was a lot of fun), and we ended up buying about £40 worth of snacks. This included a big ol'box of the most incredible cookies I've ever had in my life.
I knew I'd have to create them, and I knew Valentine's Day would be the perfect opportunity to break out my cookie cutters. So here we are; a brand new and totally addictive recipe that really does say "I love you".
*TOP TIP*
It's okay if your cookies look a little bit pale coming out of the oven. Unless they're obviously underbaked (a.k.a raw dough) then resist the urge to put them back in. The cookies will continue to cook for a few minutes on the baking sheet once out of then oven, and they will need time to cool and set.
It's worth noting though, that ovens really can vary. So the best thing I'd recommend is testing out the best timing for you.
INGREDIENTS
Cookies:
225g butter
300g sugar
2 tsp vanilla extract
1 tsp almond extract
1 large egg
2 tsp baking powder
550g plain flour
Buttercream frosting:
100g unsalted butter
1 tsp vanilla extract
Pink food colouring
Assorted sprinkles
METHOD
Preheat your oven to 170°C (340°F, gas mark 5) and line three large baking sheets with greaseproof paper.
Using either a stand or hand-held mixer, cream together the butter and sugar until light and fluffy. Add the egg and extracts, and mix until fully combined.
In a separate bowl, sift the flour and baking powder together. Add to the wet ingredients a little at a time, mixing in between each addition. Your mixture should now form a dough.
Turn the dough out onto a lightly floured surface and roll to around half a centimetre thick. Use a heart-shaped cookie cutter to cut out your love hearts and place onto your baking sheets.
Bake the cookies for 8-10 minutes then remove from the oven. Let the cookies cool completely while you make the buttercream frosting.
Again, either using a stand or hand-held mixer, beat the butter on a low-medium speed for a few minutes until it goes pale and gains a little volume. Add the icing sugar a few tablespoons at a time while continuing to mix on a slow speed. Add your vanilla extract and a few drops of pink food colouring. Mix until the colour is evenly distributed.
Once cool, use a palette knife to spread a thin layer of buttercream frosting onto each cookie, following the shape of the heart. Top your cookies with your favourite sprinkles and share with the people you love!
Who will you be giving your Love Heart Sugar Cookies to this year? Let me know in the comments!