Soft and chewy, loaded with white chocolate chunks, super easy to make…yes please! These cookies are absolutely delicious and will have you coming back to The Sweet Taste Bakery blog to bake batch after batch!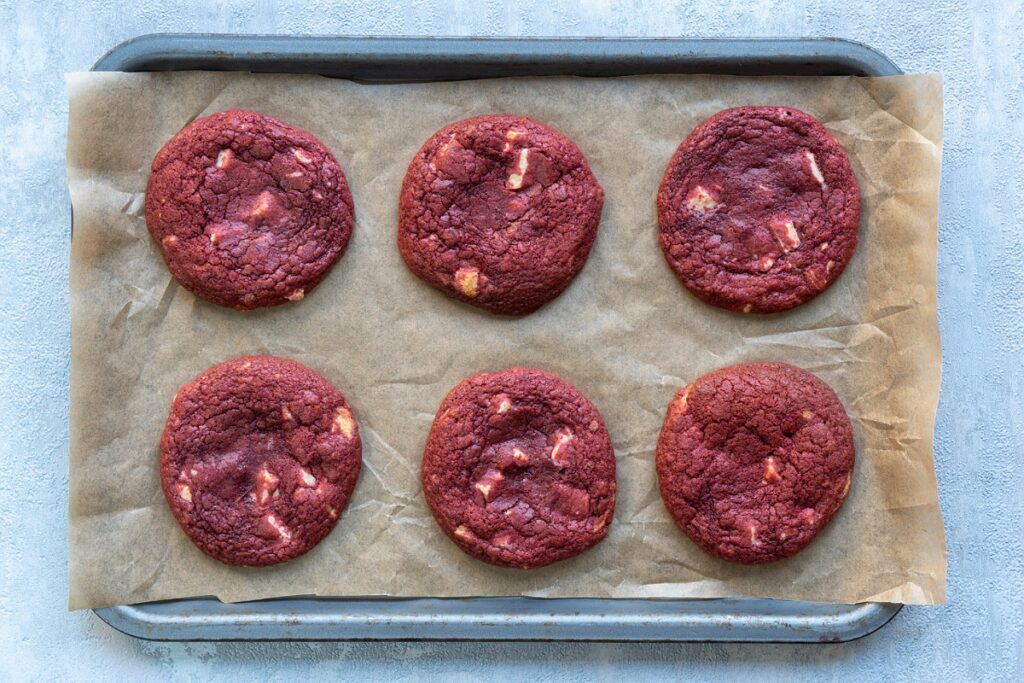 I've been doing a lot of recipe planning lately – coming up with all sorts of scrummy ideas – and after looking back through the blog, I realised it had been AGES since I posted my first chocolate chip cookie recipe. AGES. So, considering it's very nearly Valentine's Day and I'm loving anything to do with red velvet at the moment, I decided to create a new cookie recipe just for you lovely lot.
They are inspired by my chocolate chip cookie recipe – which, if you haven't made before, you really should check it out. This recipe obviously has a few tweaks but they're equally chewy and delicious.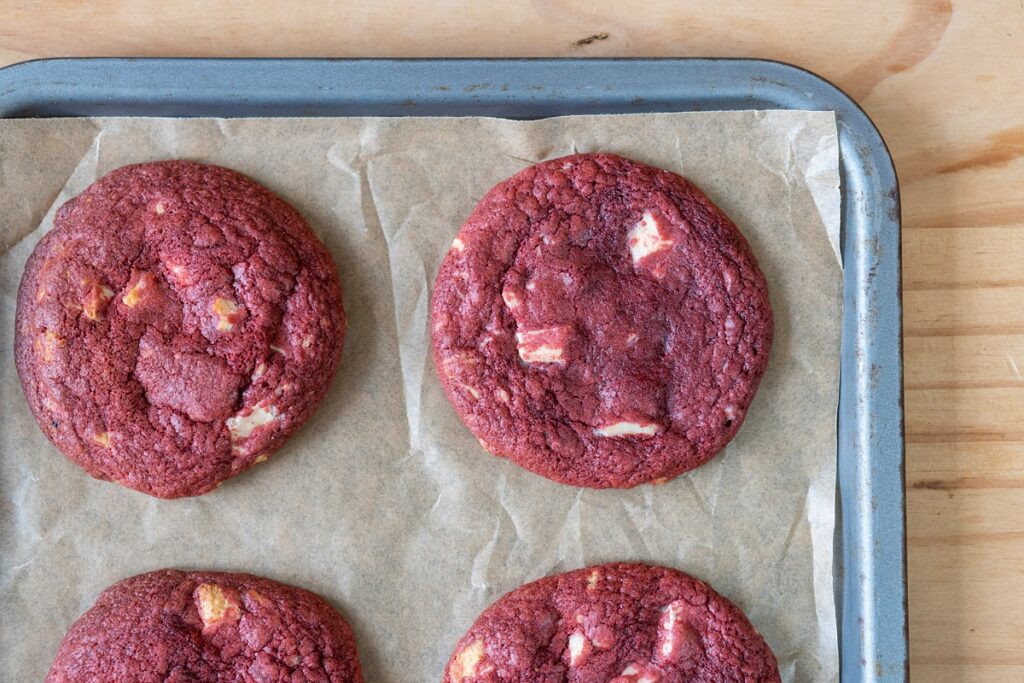 AND being red velvet and all, they're the perfect treat to bake for your partner! Or why not bake together? I don't know about anyone else, but I love cooking and baking in the kitchen with my fiance. Considering there isn't a huge amount to do during lockdown, it's a nice change from Netflix!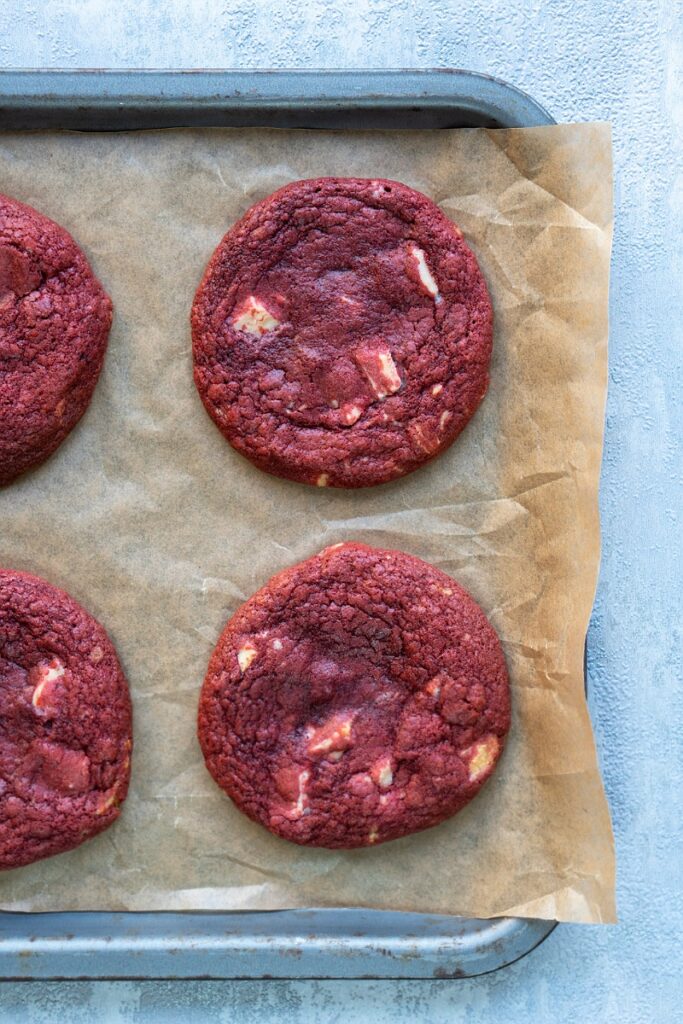 When it comes to red food colouring, I'd highly recommend a gel, as a liquid colouring will obviously affect the consistency of your cookies. I'm not a fan of supermarket food gels as they just don't work, so don't waste your money, Instead, I'd recommend investing in a couple of good quality food gels, such as Sugarflair or ProGel (I used Sugarflair Christmas Red). A little really does go a long way.
Happy baking!
INGREDIENTS
335g plain flour
15g cocoa powder
1tsp baking soda
½ tsp salt
200g brown sugar
75g caster sugar
225g softened butter
1 egg
1 egg yolk
1tsp red food gel
1tsp vanilla extract
300g white chocolate chips
METHOD
Sift the flour, cocoa, powder, baking soda and salt into a large bowl and mix. In a separate bowl, cream together the softened butter, sugars and vanilla. Add the egg, egg yolk and food gel and mix again until light and fluffy. Slowly add the dry ingredients and mix into a dough. Fold in the white chocolate chips.


Cover your bowl with a lid or cling film and chill the cookie dough in the fridge for at least 30 minutes. Pre-heat your oven to 180°C (360°F, gas mark 6) and line several baking trays with baking parchments (aka greaseproof paper).


Use a medium-sized ice cream scoop to portion out the cookie dough or roll two tablespoons of dough into balls and place onto the baking sheets. Make sure you give them plenty of space as these cookies will spread.


Bake for 10-12 minutes until the edges are a lovely golden brown. Your cookies will look slightly under-baked, but don't panic – they will firm up as they cool. Leave the cookies on their baking trays for 10 minutes before transferring to a wire rack to cool completely.
Using a medium-sized ice cream scoop, this recipe yields around 15-20 cookies, so you may have some leftovers. Store your cookies in an airtight container at room temperature for a week.