Happy New Year everyone!
I can't quite believe it's 2022 already…the last few months have really flown by. The last year has completely flown by, to be honest. But a new year is a new opportunity for many more delicious recipes, starting with my new Firework Cupcakes.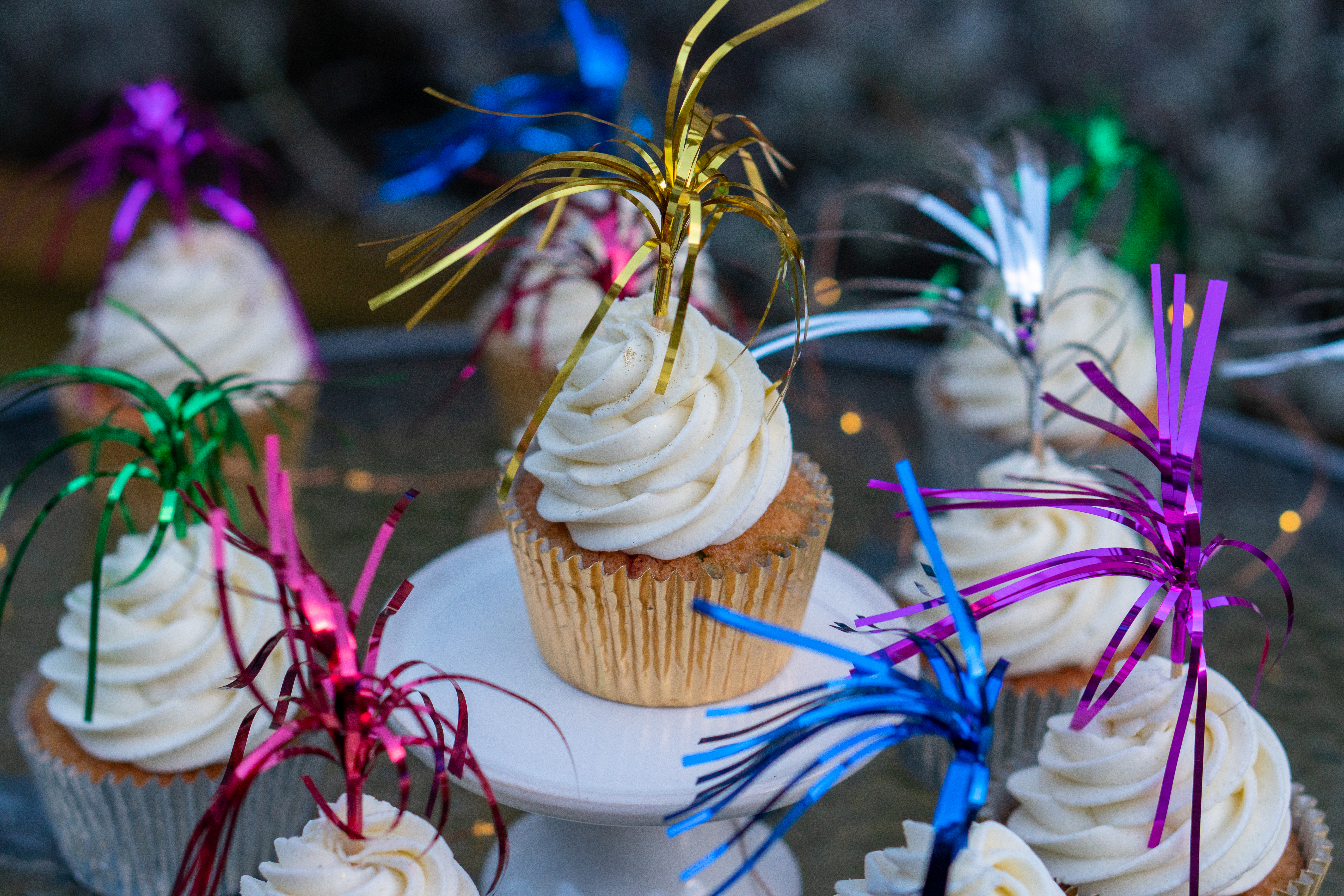 Inspired by last night's fabulous displays, these cupcakes are colourful and fruity, with a little bit of pop and sparkle.
When it comes to flavour, I wanted to try something that would really delight the taste buds. I'm a big fan of lemon cupcakes, but I also recently got some mango extract that I thought would be a great little addition. The result is a really delicious flavour combo, made even better by the creamiest vanilla frosting. The popping candy doesn't hurt either!
Don't let the celebrations stop just yet – celebrate the start of 2022 with something tasty!
*TOP TIP*
Popping candy is the perfect way to add a little bit pop and fizz to your cupcakes. I couldn't actually find it at my local supermarket, but it was easy enough to find an order on Amazon. I got a couple of different flavours – cherry and cola – but there are plenty out there to choose from.
It is worth noting that this candy really reacts to moisture. So to really enjoy it, you need to serve your cupcakes straight away. I'd recommend adding the popping candy at the last minute. Keep it in it's packet and sprinkle it on before you pass your cupcakes around.
INGREDIENTS
Cupcakes:
150g self-raising flour
150g caster sugar
150g unsalted butter
1 tsp baking powder
3 large eggs
1 tbsp milk
1 tsp vanilla extract
1 tsp lemon extract
½ tsp mango extract
30g rainbow sprinkles
Buttercream:
250g unsalted butter
500g icing sugar
1tsp vanilla extract
2-3tbsp milk
Decoration:
Edible glitter
Foil palm tree cupcake toppers
10g popping candy
METHOD
Preheat your oven to 140°C (280°F, gas mark 1) and place 12 cupcake cases into a muffin tin.
In a large bowl, cream together the butter and sugar until well combined. Add the eggs and extracts, and mix again. Sift in the flour and baking powder. Be careful not to overmix – stop when you can't see any more flour. Finally, fold in the rainbow sprinkles.
Scoop the cupcake batter into your prepared cases and bake for 22-25 minutes until beautiful and golden. Let the cupcakes cool in the tin for around 10 minutes before transferring to a wire rack to cool completely.
Next, make a start on your buttercream. Using a stand mixer or hand-held mixer, beat the butter on a low-medium speed for five minutes, until it goes pale and gains some volume. Sift in the icing sugar about 100g at a time, beating on a low setting between each addition. Add a couple of tablespoons of milk and the vanilla extract, and give it one final mix.
Once the cupcakes have cooled completely, spoon your buttercream into a piping bag fitted with your favourite nozzle, and pipe a generous swirl on top of each cupcake. Sprinkle with a light dusting of edible glitter and popping candy. Finish off with your coloured cupcake toppers and serve!
What sweet treats would you like me to make for you this year? I'd love to hear from you guys – please drop me a comment in the box below!