Love Heart Rice Krispie Treats
If you're in need of a delicious Valentine's treat that won't take you hours to prepare, then you're in the right place!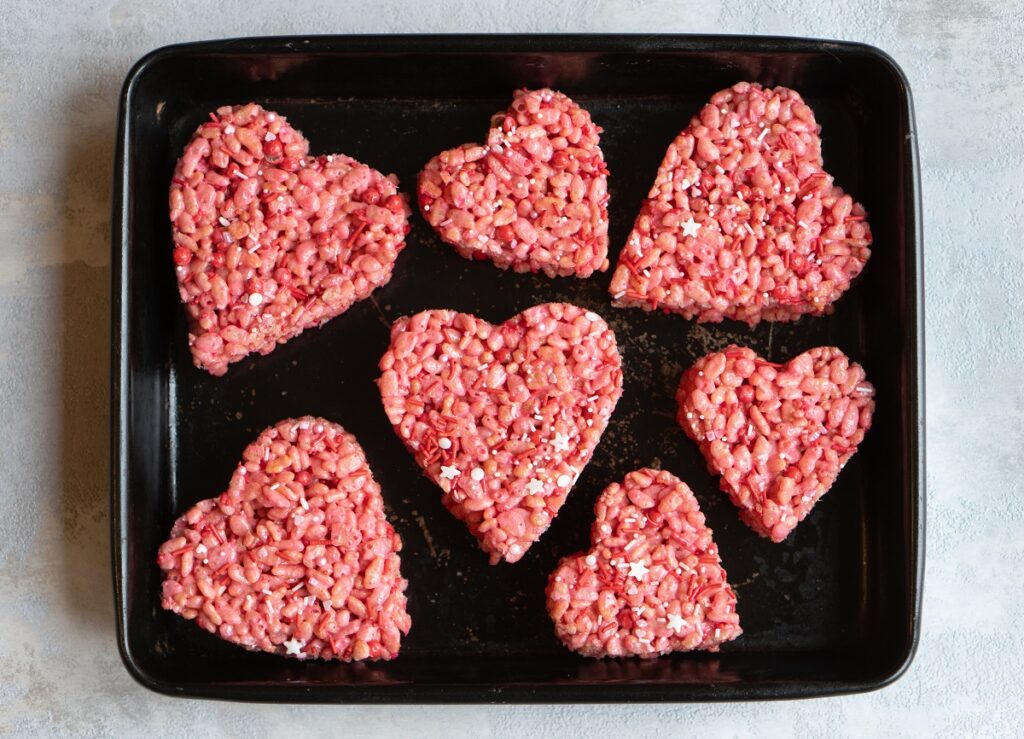 These heart shaped Rice Krispie Treats require minimum effort for maximum effect, and they're perfect for sharing.
They take just minutes to prepare and with the addition of some food colouring, sprinkles and a heart shaped cutter, they can be transformed from a school yard staple to a snack for your sweetheart!
INGREDIENTS
200g Rice Krispies
200g marshmallows
80g unsalted butter
1tsp pink food gel

Sprinkles to decorate
METHOD
Lightly grease a 10×10 inch baking tin and line with baking parchment. Pop the butter and marshmallows into a large heatproof bowl and melt in the microwave for around 90 seconds, stopping every 30 second to stir.

Once melted, add the pink food gel and mix thoroughly until well combined. Pour in the Rice Krispies and fold until the cereal is fully coated in the marshmallow mixture. Stir your favourite sprinkles into the mixture.

Spray a silicone spatula with a little oil and scrape the Rice Krispie mixture into your prepared tin. Spread evenly and press down into the tin. Top with a few more sprinkles. 

Leave your Rice Krispie treats to set for a few of hours at room temperature, then lift them out of the pan and onto a cutting board. Cut out your treats using a heart shaped cookie cutter and serve.
Your Love Heart Rice Krispie Treats will last in an airtight container for up to three days.
Who will you be sharing these treats with? Drop me a comment below!