Valentine's Brownie Bites
It's official…we made it through January! And that means Valentine's Day is less than two weeks away!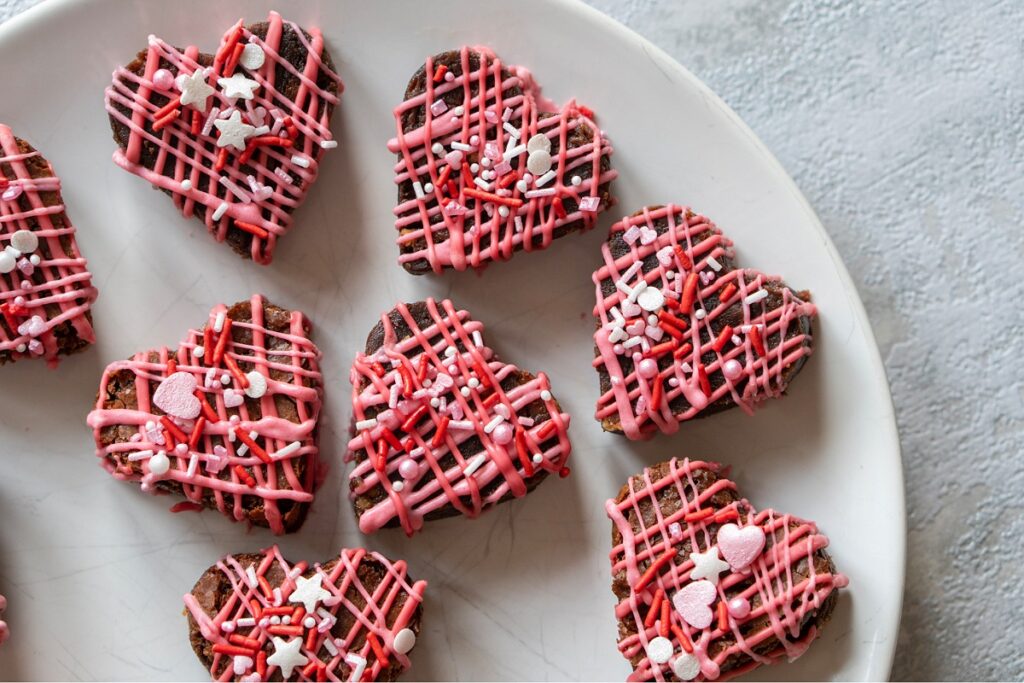 As you may have noticed, I'm getting fully into the swing of Valentine's with a lot of pink and heart-shaped treats – and there's more of that to come! I've also been watching a lot of lovey-dovey TV, which has probably helped a little bit with the Valentine's inspiration. In fact, I made these delicious little brownie bites while binge-watching Love is Blind for the third time!
But enough about my cringe-worthy Netflix history…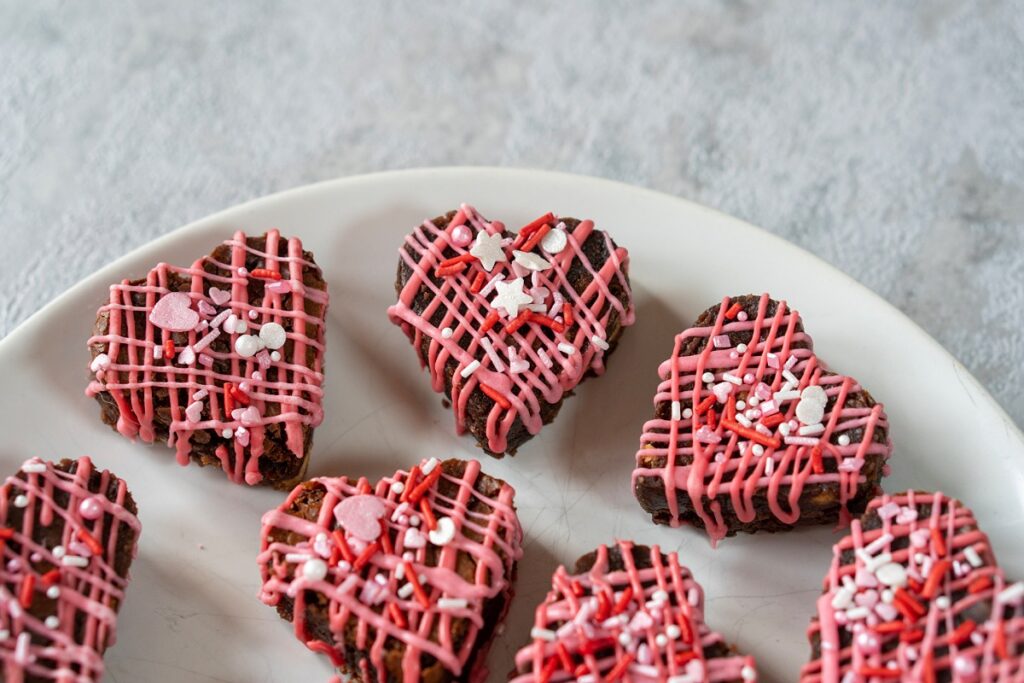 These brownie bites are for the chocolate lovers out there. I guess you'd call them double chocolate, because there's both milk and white chocolate in there. And white chocolate on top.
They're super fudgy and chocolatey and delicious, and made so cute with a simple heart-shaped cookie cutter. I used the smallest cutter in my set to make these bitesize treats, but if you want to make them a little bigger, go for it.
The great thing about brownies is that you can really make them your own. I'm giving you the basic recipe here, but you can put your own unique stamp on them with chopped nuts, dried fruit, yogurt chips, caramel sauce, Biscoff spread – whatever you or your partner loves!
*TOP TIP*
When you've cut out as many brownie bites as possible, you're going to have a few little offcuts. But don't throw these away! The great thing about fudgy brownies is that they're really soft and can be reshaped. I took all my remaining brownie pieces and pressed them into the mould to make even more bites! They will hold their shape well, especially when they go into the fridge to cool for a little while.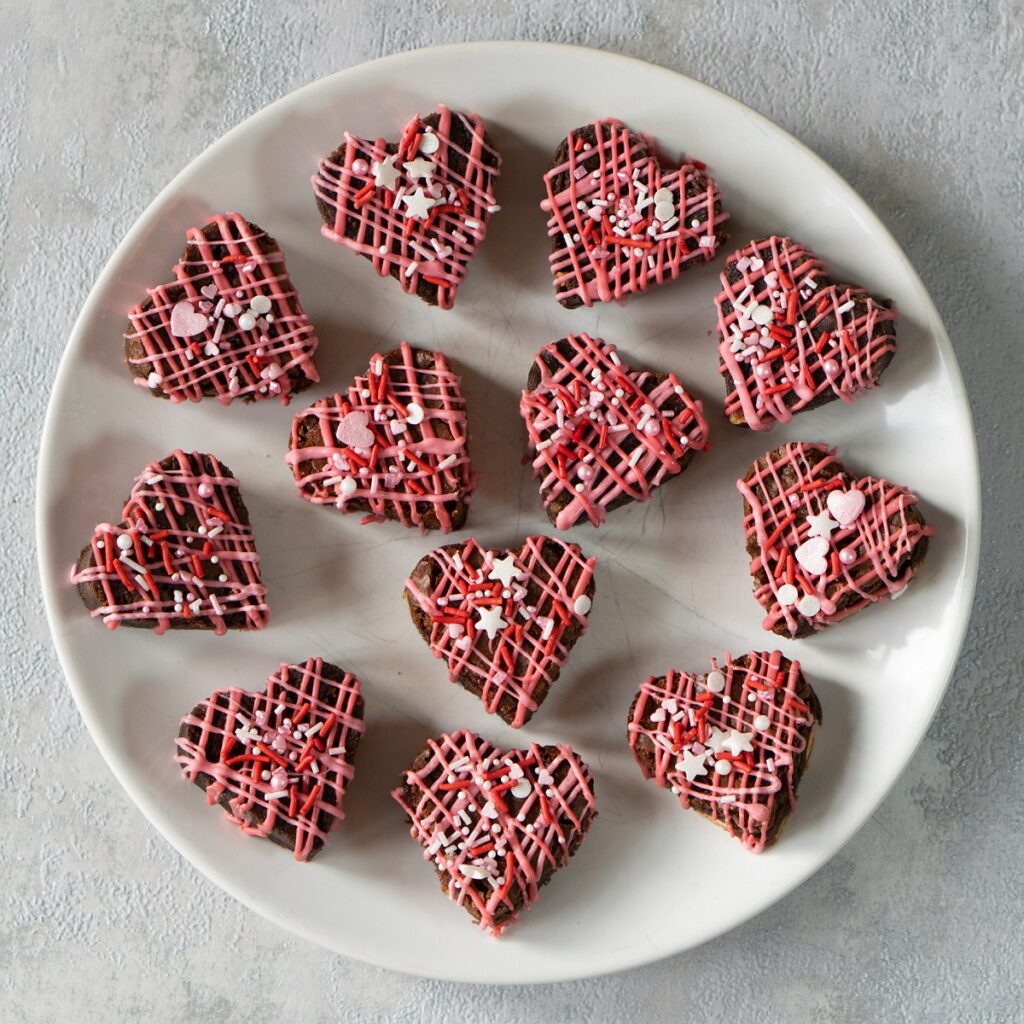 INGREDIENTS
200g milk chocolate
160g butter
160g sugar 
2 large eggs
25g self raising flour
20g cocoa powder
1/2tsp vanilla extract
85g white chocolate

To decorate:
40g white chocolate
1/2tsp pink food gel
1/2tsp red food gel
3tbsp sprinkles
METHOD
Preheat your oven to 170°C (340°F, gas mark 5) and line a 10 x 8 inch baking tin with baking parchment (aka greaseproof paper).


Fill a medium sized saucepan about an inch full of boiling water and bring to a simmer over a low heat. Break up the chocolate, cut the butter into cubes and add to a heatproof bowl. Place the bowl on top of the saucepan, making sure it isn't touching the water.


While the chocolate and butter are melting, break the eggs into a separate bowl. Add the sugar and vanilla bean paste, and whisk until pale and fluffy. Pour in the melted chocolate mixture and whisk to combine.


Chop the white chocolate into small chunks and add to the brownie batter. Sift the flour and cocoa powder into the bowl, then fold all of the ingredients together until well combined. Pour the batter into your prepared tin and smooth right to the edges. Bake for 25-30 minutes.


Take your brownies out of the oven and leave to cool for a few minutes in the tin before transferring to a wire rack to cool completely. Once cooled, peel away the baking parchment and use a cookie cutter to cut out heart shapes, until you've used up all of the brownie. Place your brownie hearts into the fridge for around 20-30 minutes.


While your brownie hearts are in the fridge, melt the remaining white chocolate over a saucepan of boiling water or in the microwave. Once melted, separate the melted chocolate into two small dishes and colour with the food gel. Pour the coloured chocolate into two separate piping bags, and snip off a tiny piece at the end.


Once the brownie bites have cooled, take them out of the oven and drizzle with the coloured white chocolate. Immediately top with your favourite sprinkles. Leave the chocolate to set at room temperature for 20 minutes or dive straight in!
Will you be baking these for your partner on Valentine's Day? Let me know in the comments!