Everyone, and I repeat EVERYONE, loves a good delicious, chewy chocolate chip cookie; it's a classic recipe every baker should learn to master. However, the consistency of your cookie can vary significantly depending on how you use and add your ingredients.
Did you know that cool/room temperature butter will give your cookies a cake-like texture? Or that refrigerating your cookie dough will affect the spread of your cookies? Of course, how you use your ingredients comes down to personal preference, and you can play with the quantities, but if you love a gooey, chewy cookie consistency, this is the recipe for you.
The great thing about cookies is that you can choose whatever flavour chocolate chips you want, and you don't even have to limit yourself to just chocolate if you're feeling adventurous. I prefer white chocolate in my cookies, but I've also tried this recipe with fudge pieces, and it works so well. Butterscotch chips, seeds, chopped nuts or dried fruit are other amazing substitutes.
INGREDIENTS
350g plain flour
1tsp baking soda
1tsp salt
200g brown sugar
75g caster sugar
225g softened butter
1 egg
1 egg yolk
1tsp vanilla extract
300g chocolate chips
METHOD
Sift the flour, baking soda and salt into a large bowl and mix. In a separate bowl, cream together the softened butter, sugars, vanilla, egg and egg yolk until light and fluffy. Slowly add the dry ingredients and mix into a dough. Fold in the chocolate chips.


Cover your bowl with a lid or cling film and chill the cookie dough in the fridge for at least 30 minutes.


Pre-heat your oven to 180°C (360°F, gas mark 6) and line several baking trays with baking parchments (aka greaseproof paper).


Use a medium-sized ice cream scoop to portion out the cookie dough or roll two tablespoons of dough into balls and place onto the baking sheets. Make sure you give them plenty of space as these cookies will spread.


Bake for 10-12 minutes until the edges are a lovely golden brown. Your cookies will look slightly under-baked, but don't panic – they will firm up as they cool.


Leave the cookies on their baking trays for 10 minutes before transferring to a wire rack to cool completely.
Using a medium-sized ice cream scoop, this recipe yields around 15-20 cookies, so you may have some leftovers. Store your cookies in an airtight container at room temperature for a week.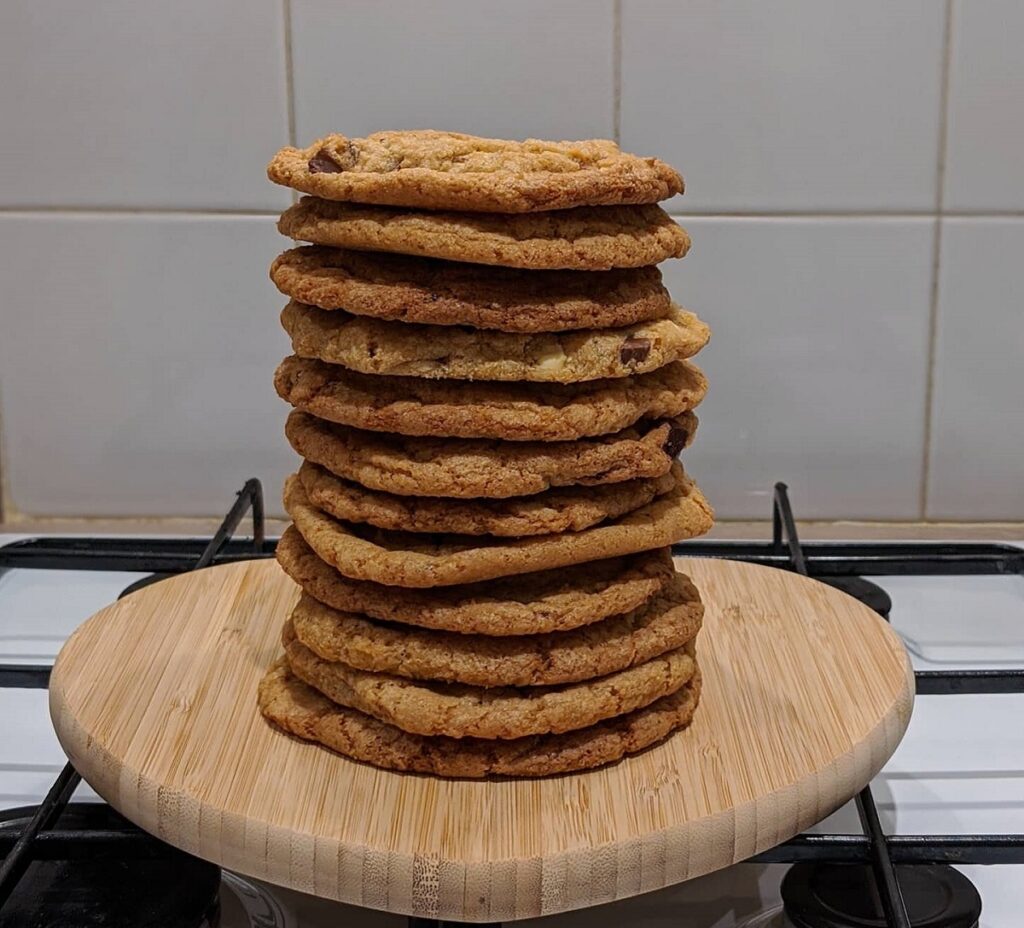 Have you made these delicious chocolate chip cookies? Let me know in the comments!