Valentine's Marshmallow Cupcakes
Nothing says "I love you" quite like a fresh batch of delicious cupcakes. Light almond sponge with sweet, sweet marshmallow buttercream and a cute little marshmallow heart. Tasty and touching.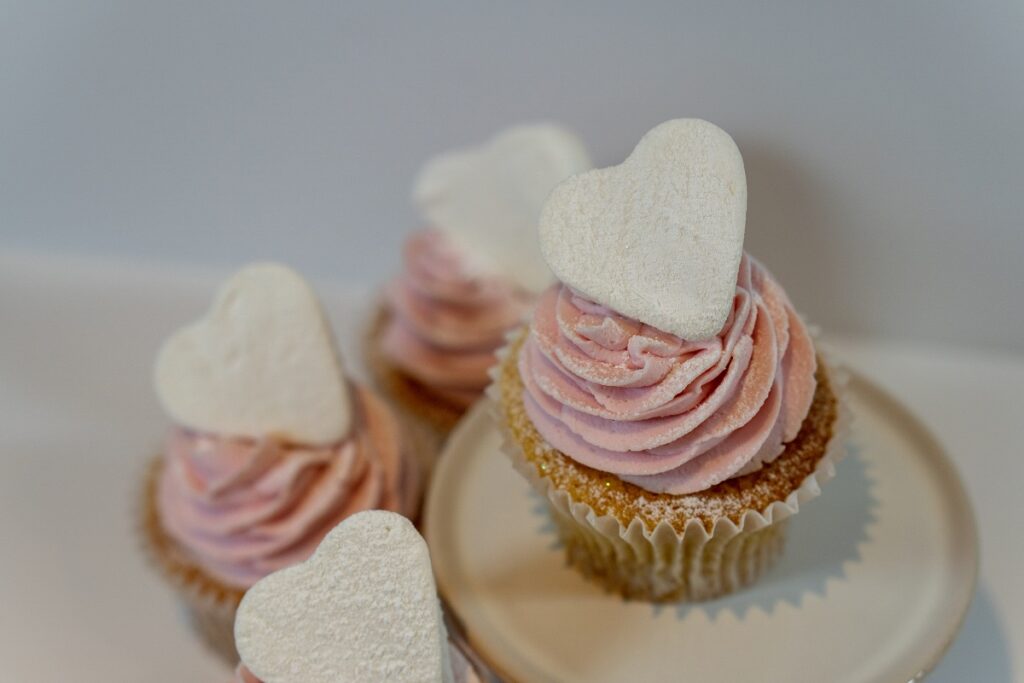 Let's talk marshmallows first, because IF you're really pushing the boat out this weekend, you can make your own marshmallows for these cupcakes.
You guys already know I love anything marshmallow related, so of course I already have my own recipe. Ideally these should be made the day before, or at least 6 hours in advance, to make sure they're set. Then it's just a case of cutting them out with a heart-shaped cookie cutter. Easy peasy.
And trust me, marshmallows are actually really easy. Check out my Instagram highlights to watch me make them step by step!
Of course, if you don't have time to make your own marshmallows, you can buy them instead.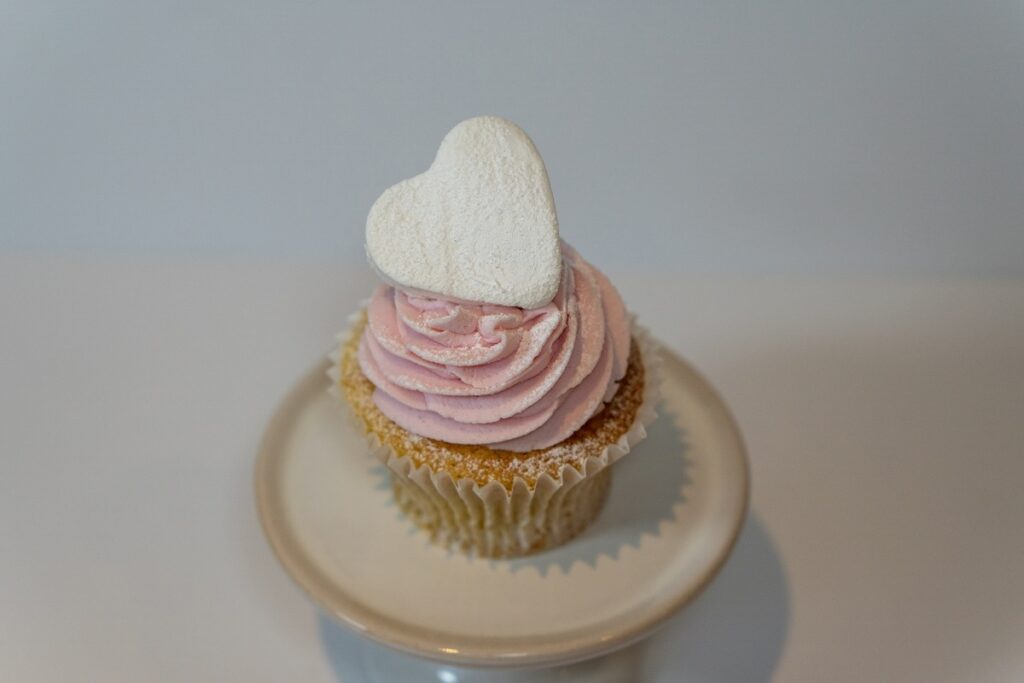 Next, the sponge!
It took me a little while to land on this almond and marshmallow flavour combination. I originally thought I should make red velvet cupcakes for Valentine's Day, but that honour went to my Red Velvet Cookies earlier in the week. So I chose something a little different but equally delicious.
And that's saying something considering I don't actually like nuts. But I think the flavour of almonds is so different from actually eating an almond. I'll drink Amaretto liquor, I'll eat macarons and marzipan, but I won't eat almonds. I know – I'm weird.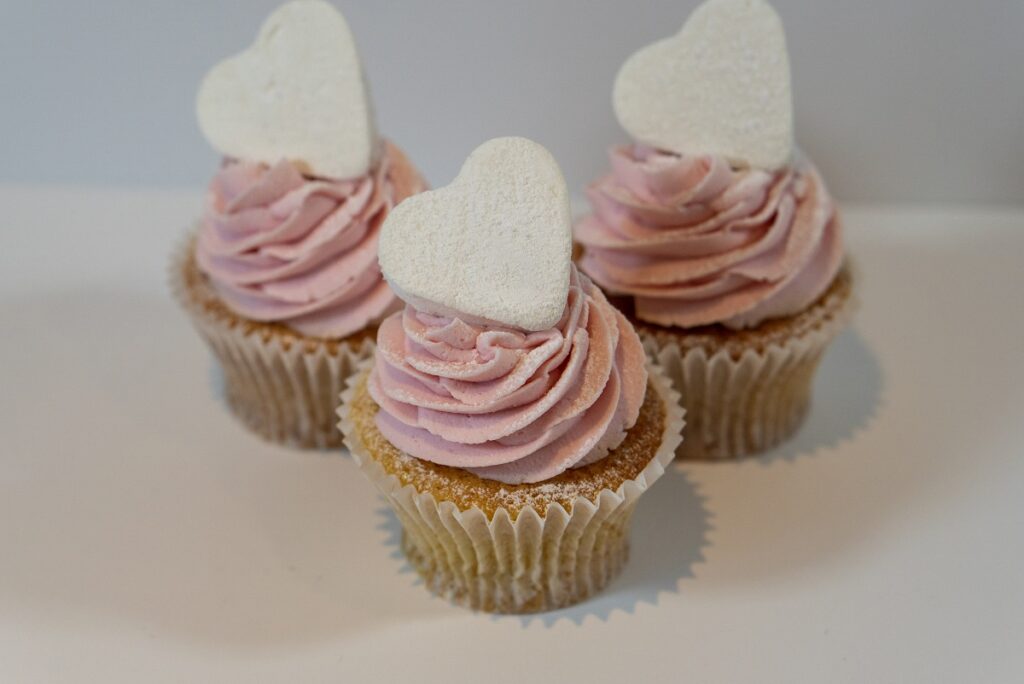 Finally, the buttercream. So creamy, so sweet, so decadent!
I based this recipe on my basic vanilla buttercream recipe, with the wonderful addition of Marshmallow Fluff to give it that fantastic flavour. You can find Marshmallow Fluff in most supermarkets (I bought mine in Sainsbury's for £2.20) or on Amazon.
Happy baking lovebirds!
INGREDIENTS
Makes 12
Cupcakes:
160g self-raising flour
170g caster sugar
160g butter
1 tsp baking powder
3 eggs (room temperature)
2 tbsp natural yogurt
1 tsp almond extract
1 tsp vanilla extract
Buttercream:
250g softened unsalted butter
450g icing sugar
150g Marshmallow Fluff
1 tsp vanilla extract
½ tsp pink food gel
2 tbsp double cream
To decorate:
12 heart-shaped marshmallows
3 tbsp icing sugar
METHOD
If you're making your own homemade marshmallows, you'll need to do this at least six hours in advance. Click here to follow my recipe. If you're using store-bought marshmallows, continue straight to step 2. 

Preheat your oven to 140°C (280°F, gas mark 1) and place 12 cupcake cases into a muffin tin.

Crack the eggs into a large bowl, add the sugar and beat with a whisk or hand mixer. Melt the butter and add to the egg mixture, followed by the yogurt, vanilla and almond extract. Sift in the flour, baking powder and a pinch of salt, and mix until just combined. Be careful not to overmix – stop when you can't see anymore flour.

Scoop the batter into the prepared cupcake cases, filling to about two thirds of the way and bake for 22-25 minutes. Allow your cupcakes to cool for a few minutes in the tin then transfer to a wire rack to cool completely.

While your cupcakes are cooling, make a start on your buttercream. Using a stand mixer or hand-held mixer, beat the butter on a low-medium speed for five minutes, until it goes pale and gains some volume. You may need to stop your mixer and scrape down the bowl a couple of times.

Sift in the icing sugar a couple of tablespoons at a time, lightly mixing using a spatula before beating on a low setting between each addition. Once you've used half the icing sugar, add the Marshmallow Fluff, vanilla, food gel and cream and mix thoroughly. Sift in the remaining icing sugar.

Once you've reached the desired consistency, add the buttercream to a piping bag fitted with your favourite nozzle (I used a Wilton 1M) and pipe out a swirl on top of each cupcake. Pop a heart-shaped marshmallow on top of each cupcake, then dust with a little icing sugar.
You'll most likely have some buttercream leftover from this recipe. Check out my guide for properly storing leftover buttercream.
What will you be baking this Valentine's weekend? Let me know in the comments!