Calling all you Biscoff fans out there! This recipe is for you…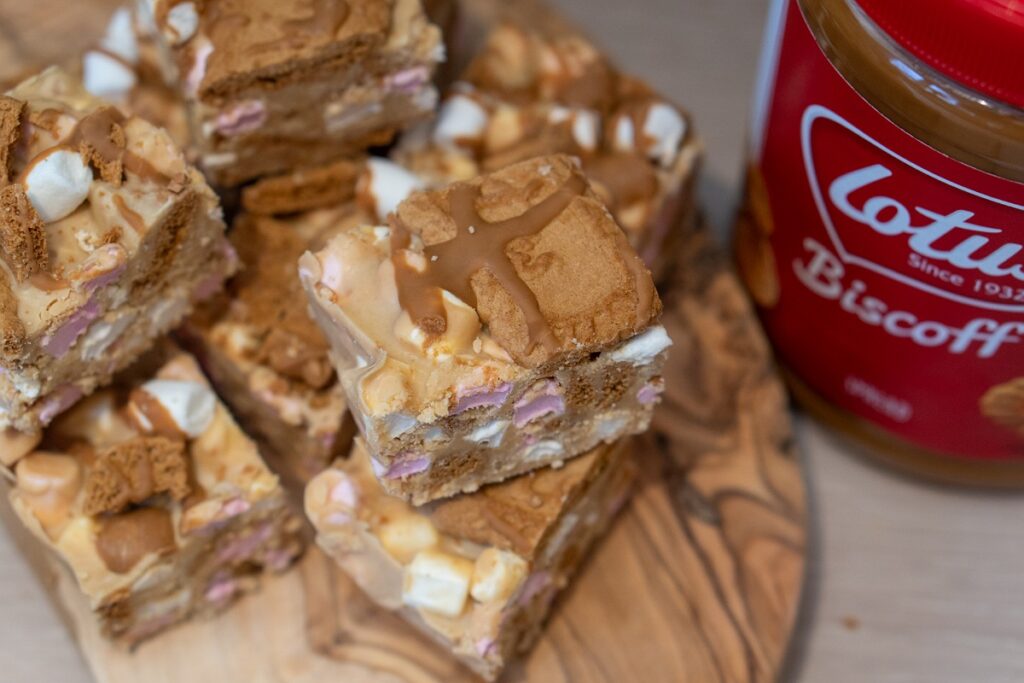 Biscoff Rocky Road is an absolute joy to make. It combines three of my favourite sweet treats – Biscoff (duh?!) white chocolate and marshmallows. In fact, I loved it so much that I've eaten a chunk of it for breakfast every day this week. Seriously.
And once you'll make it, you'll understand why.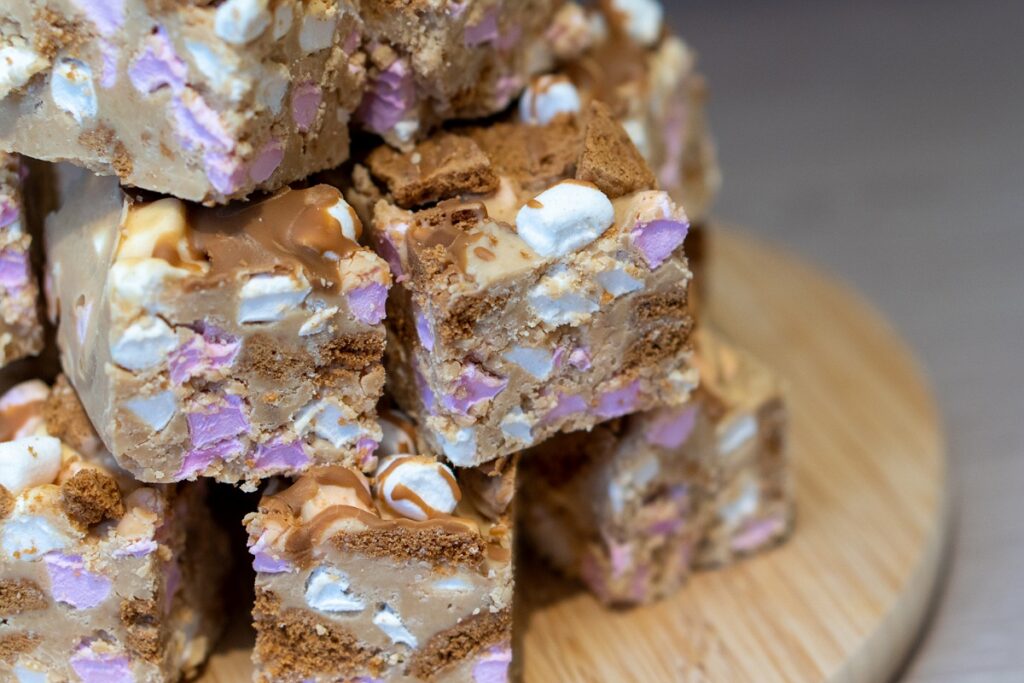 It's so quick and easy to throw together… minimal washing up, which is a awesome bonus. And it'll absolutely satisfy all your sweet cravings.
Each bite is packed full of melt-in-your-mouth chocolate, crunchy Biscoff pieces and soft marshmallows. It's just too good to put into words!
SO I'll shut up and let you experience the magic for yourself…
INGREDIENTS
Rocky road:
400g white chocolate
35g butter
150g Lotus Biscoff Spread
200g mini marshmallows
200g Lotus Biscoff Biscuits
To decorate:
20g mini marshmallows
2tbsp Lotus Biscoff Spread
6 Lotus Biscoff Biscuits
METHOD
Line an 8×8 inch baking tin with greaseproof paper and set aside.
Break up the chocolate into small pieces and add to a heatproof bowl along with the butter. Pop the bowl into the microwave and heat in 30 second bursts until melted. Stir until well combined.
Spoon the Biscoff Spread into the chocolate mixture and beat together. Set aside to cool for a few minutes.
Chop up the Lotus Biscuits and fold into the chocolate mixture along with the mini marshmallows. Pour into the prepared tin and spread evenly.
Sprinkle the extra mini marshmallows and Lotus Biscuits on the rocky road. Melt the remaining Biscoff Spread in the microwave and drizzle over the top to finish it off.
Place your baking tin into an airtight container and allow the rocky road to set at room temperature for a few hours. Cut into pieces as big or small as you like and enjoy!
Are you a Biscoff fan? What other Biscoff flavoured treats would you like to see me make? Let me know in the comments!