Somehow we've reached the middle of February and somehow it's already pancake day. But I'm definitely not complaining – what a killer excuse to eat delicious pancakes all day long!
You know me though…I'm not stopping at tiny pancakes. No…I'm taking those tiny pancakes and I'm putting them on top of a soft, fluffy, maple syrup cupcake, with maple syrup frosting and some tasty little blueberries. Because I'm extra.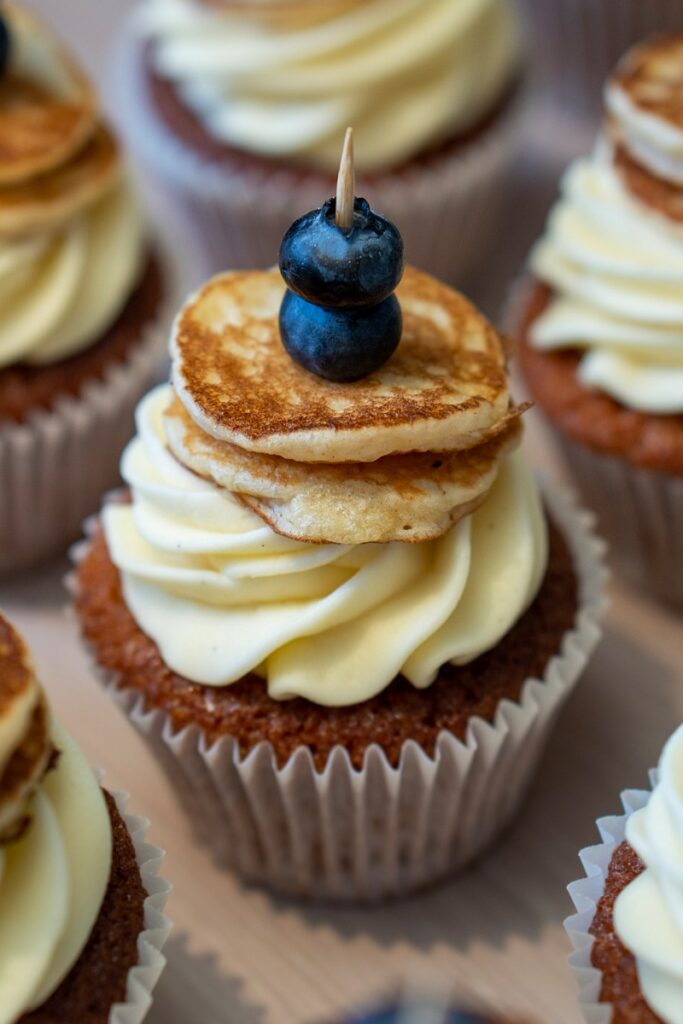 But you've got to admit, these cupcakes have got to be some of the cutest I've ever made. And yet they're still so easy.
The mini pancakes do require some patience – they take less than a minute to cook, so you've got to give them your full attention – but the cupcakes and buttercream are nice and simple.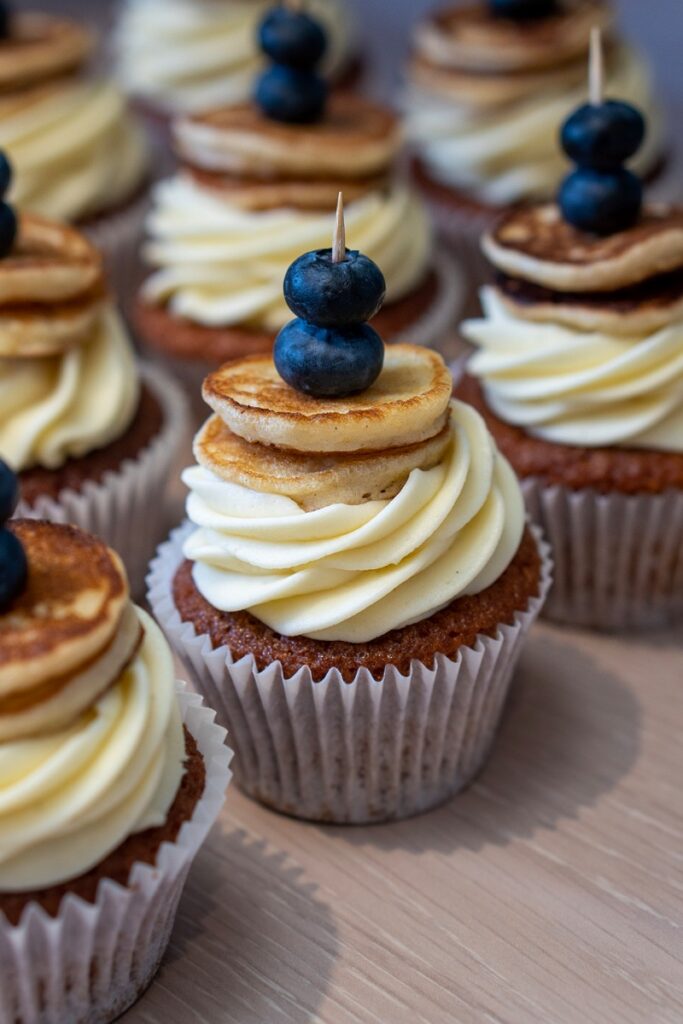 I based this recipe on my updated vanilla cupcake recipe, with the addition of plenty of maple syrup. Your cupcakes will come out a little darker than usual but don't panic, you haven't burnt them. The combination of the brown sugar and syrup will give them a darker colour, but will also give them a delicious, rich caramel flavour.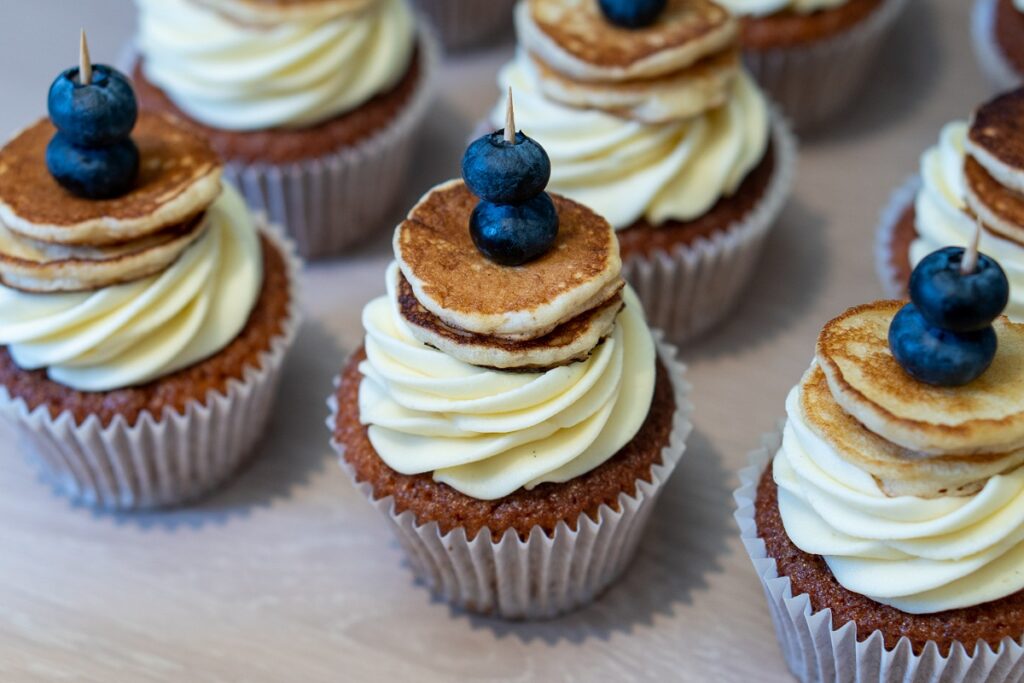 INGREDIENTS
Makes 12
Cupcakes:
170g self raising flour
85g caster sugar
85g brown sugar
170g butter
1tsp baking powder
3 large eggs (room temperature)
2tbsp natural yoghurt
120ml maple syrup
1tsp vanilla extract
Buttercream:
250g unsalted butter
600g icing sugar
1tsp vanilla extract
60ml maple syrup
3tbsp milk
Mini pancakes:
150g self raising flour
200ml milk
1 large egg (room temperature)
50g caster sugar
½ tap vanilla extract
To decorate:
24 blueberries
12 toothpicks
METHOD:
Start by preparing your mini pancakes. Measure out your milk in a large jug, then add the egg and vanilla extract, and whisk until well combined. Add the sugar and the flour, and whisk again until smooth. You might want to use a hand-held mixer with a whisk attachment to make sure there are no lumps.


Lightly grease a large frying pan with oil and heat on high for a few minutes, before turning down to medium. Add a tablespoon of batter to the frying pan for each mini pancake and cook for 30 seconds. You'll start to see bubbles form on the surface. Flip your pancakes and cook for another 30 seconds, then pop the pancakes onto a plate. Repeat until you've used all of the pancake batter. Set aside to cool.


Preheat your oven to 140°C (280°F, gas mark 1) and place 12 cupcake cases into a muffin tin. Crack the eggs into a large bowl, add the sugars and beat with a whisk or hand mixer. Melt the butter and add to the egg mixture, followed by the vanilla, yoghurt and maple syrup. Mix until well combined. Finally, sift in the flour, baking powder and a pinch of salt, and gently fold into the wet ingredients. Be careful not to overmix – stop when you can't see any more flour.


Scoop the cupcake batter into the prepared cases, filling to about two thirds of the way and bake for 25 minutes. Allow your cupcakes to cool for a few minutes in the tin then transfer to a wire rack to cool completely.


While your cupcakes are cooling, make your buttercream. Using a stand mixer or hand-held mixer, beat the butter on a low-medium speed for five minutes, until it goes pale and gains some volume. You may need to stop your mixer and scrape down the bowl a couple of times.


Sift in the icing sugar a couple of tablespoons at a time, lightly mixing using a spatula before beating on a low setting between each addition. Once you've used about half the icing sugar, add the maple syrup. Sift in the rest of the icing sugar. Once you've reached the desired consistency, add your vanilla extract and give it a thorough mix. Add your buttercream to a piping bag fitted with your favourite nozzle and pipe a swirl onto each cupcake.


Now it's time to decorate. Wash and dry your blueberries and divide into pairs. Skewer a pair of blueberries, followed by two mini pancakes and place on top of each cupcake. And there you have it!
What toppings have you added to your pancakes today? Let me know in the comments!