While there's nothing quite like a freshly baked cupcake, freezing a batch ahead of  time – for a big party, or a simple sugar emergency – is the perfect solution when you need to get ahead of things. 
But storage can be tricky – you want your cupcakes to stay lovely fresh without drying out or losing any of those lovely flavours.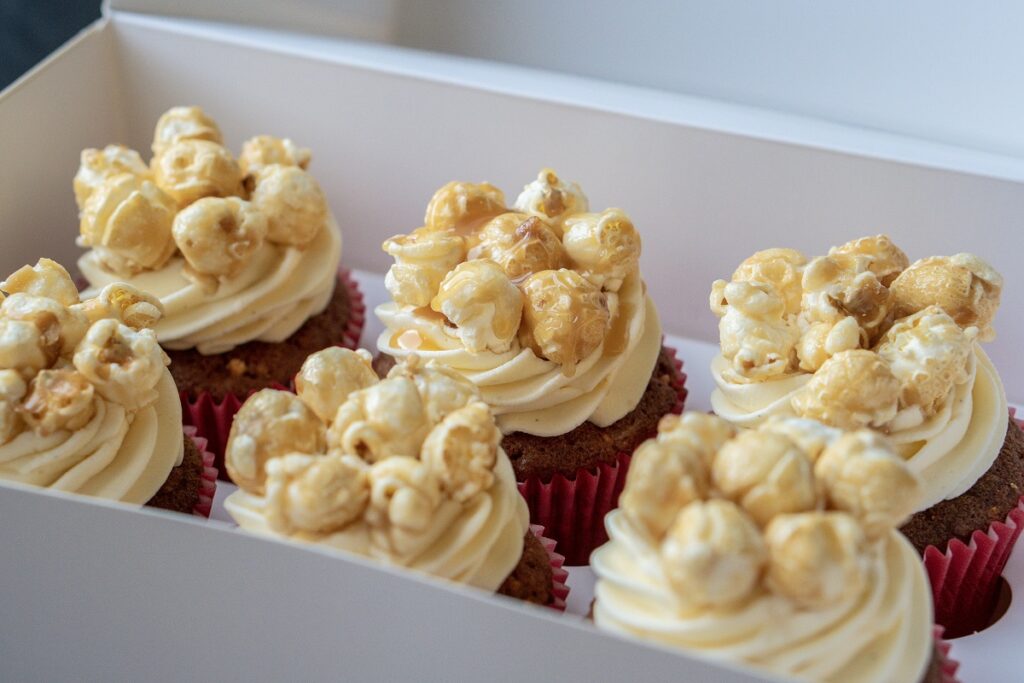 Lucky for you, I'm here to walk you through the process step by step, with some handy tips and tricks to help you keep your cupcakes as fresh as the day you baked them!
Bake your cupcakes and let them cool completely
Your cupcakes should be completely cool to the touch before they're frozen. Warm cupcakes will release steam when stored in an airtight container, which will make them sticky and cause their cases to peel away.
Once your cupcakes come out of the oven, leave them to cool in the tin for 10 minutes, then transfer to a wire rack to cool completely.
It's important to cool your cupcakes on a wire cooling rack rather than a plate or chopping board, as it will allow air to circulate around your cupcakes and prevent those dreaded soggy bottoms.
Need a killer cupcake recipe? Check out my delicious vanilla cupcake recipe!
Wrap your cupcakes individually
It's up to you whether you want to freeze your cupcakes with or without frosting them. However, in my experience, it's best to freeze cupcakes on their own, as your lovely buttercream decoration can easily get squashed during the wrapping process. If you also want to make your buttercream ahead of time, it freezes extremely well too.
Once your cupcakes are completely cool, wrap each one individually in a piece of cling film. Make sure there are no gaps – you can always do a double wrap for peace of mind.
Store your cupcakes in an airtight container or freezer bag
Take your individually wrapped cupcakes and place them into an airtight box or place them into a strong freezer bag. This will give your cupcakes an added layer of protection, and will stop them from getting lost in your freezer. Don't forget to write the date on top of your box or on the bag.
If you do want to save some space and freeze them loosely (aka out of a container), you will need to add a layer of aluminium foil over the top of the cling film. Make sure you make note of the date you froze the cupcakes.
Cupcakes will last in the freezer for up to three months.
Defrost your cupcakes
When the big day arrives and you're ready to frost and eat your delicious cupcakes, take them out of the freezer, out of the box or bag, and carefully remove your layers of cling film.
Place your cupcakes onto a wire rack and allow them to defrost at room temperature. Be patient – don't put them in the microwave to speed up the process. It will only take a couple of hours for your cupcakes to defrost, ready for you to frost them with your favourite topping.
I hope you're a fan of white chocolate – here's a mouth-watering buttercream recipe for you to try.
Have you tried freezing your cupcakes? Let me know in the comments!