I've always thought of meringue as a lighter dessert choice, that is, until you start adding lashings of cream! But these meringue kisses are exactly that – a simple and sweet pudding option, without the extra helping of guilt!
These little drops are easy to make and easy to customise too – you can add flavourings or colours to your heart's delight, which make them really great for gifting.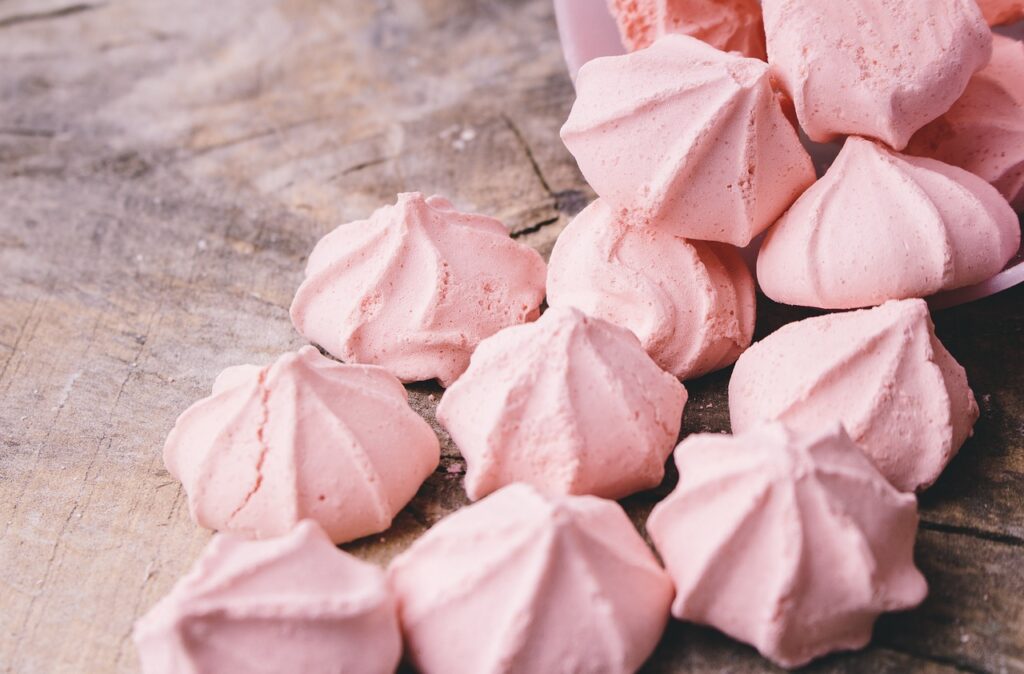 *TOP TIP*
There are a couple of important things to remember when making meringue. The first is to make sure your equipment is completely clean. You need to get rid of any residual grease from your bowls, whisks, spoons, spatulas, etc. Secondly, make sure that your egg whites are at room temperature before you start whisking. Cold egg whites will take longer to whip up.
INGREDIENTS
3 egg whites
150g sugar
½ tsp vanilla extract
Foods colouring (optional)
METHOD
Preheat your oven to 100°C (212°F, gas mark 1/2) and line a couple of baking sheets with parchment paper.

Carefully separate the egg whites into a large bowl, making sure not to get any yolk in there. Using a hand-held or stand mixer, whisk the egg whites on a medium-high speed until foamy and doubled in size. Add the sugar, 1tbsp at a time, followed by the vanilla extract, and whisk into firm, glossy peaks.

If you want to colour the full batch of meringue, you can add the food colouring to the bowl and whisk. Add the mixture to a piping bag fitted with a large piping nozzle and pipe small blobs onto your baking sheets. If you want fun stripes on your kisses, brush the food colouring onto the inside of your piping bag before adding the meringue.

Pop your meringue kisses into the oven for 45 minutes, until they lift easily off the parchment paper. Leave them to cool completely before serving.
Want to know more about meringue? Check out my blog on the three – yes three – different types!