For some completely crazy reason, I had never made a carrot cake until about a year ago, not counting school cookery lessons. I always associated it with nuts like pecans and walnuts, which I don't eat (hello, fussy eater over here), so I foolishly opted to stay away. That was until one of my wonderful colleagues brought her own carrot cake into the office and blew my mind – it was so tasty and completely nut free!
With inspiration from the lovely Jade, I decided it was time to branch out and make my own, so I set out to nail a new recipe.
I started with the base ingredients (flour, sugar, oil, eggs, carrots – you get the picture) but a lot of the recipes I found included extras like nuts, raisins, applesauce or pineapple to make the cake that bit more interesting, as well as extra moist. I needed something to make my carrot cake cupcakes stand out.
After a bit of trial and error, I found that something. Check out the full recipe below.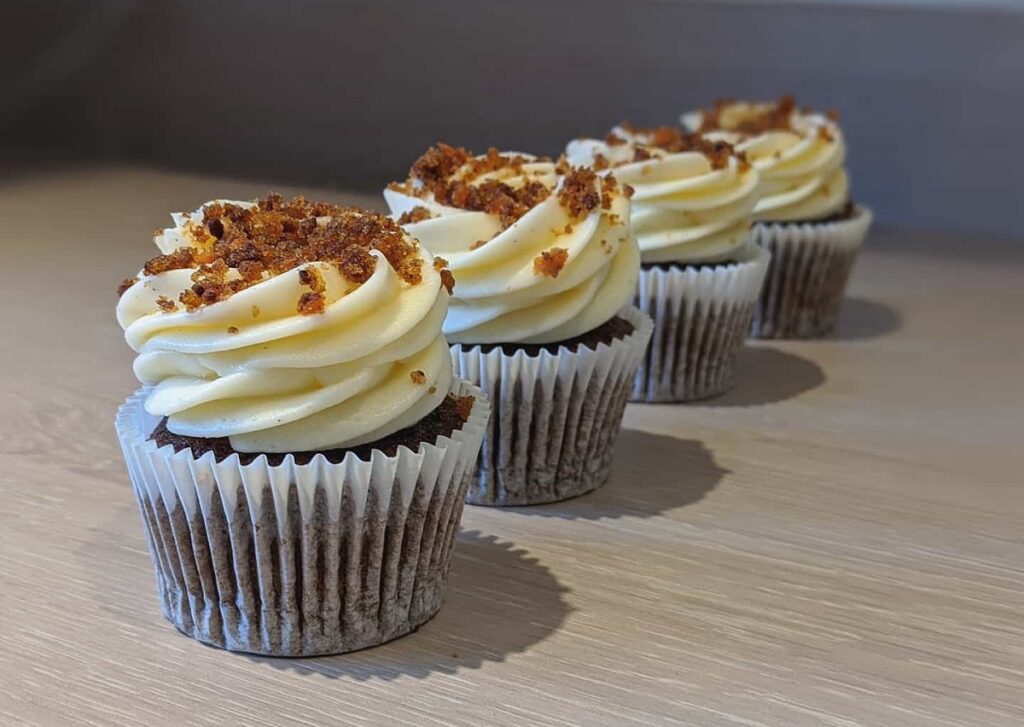 *TOP TIPS*
This cupcake recipe can also be used to make a layered carrot cake! Grease three 7-inch cake tins, pour in the mixture and bake at 160°C (320°F) for 35-40 minutes.
INGREDIENTS
300g plain flour
200g brown sugar
150g caster sugar
2tsp baking soda
½ tsp salt
1 ½ tsp cinnamon
300ml vegetable oil
350g carrots
200g pitted dates
4 large eggs (room temperature)
1tsp vanilla extract
METHOD
Start by adding the pitted dates to a bowl or large jug with 100ml boiling water and soak for 20 minutes. While the dates are soaking, top and tail your carrots and grate – you can do this by hand, but it will take some time, so I'd recommend using a food processor if you have one.


Pre-heat the oven to 170°C (340°F, gas mark 5) and place 12 cupcake cases into a muffin tin.


Sift the flour, baking soda, salt and cinnamon into a large bowl and whisk to combine. In another bowl, mix the oil, sugars and vanilla. Whisk in the eggs one at a time. Slowly pour the wet ingredients into the dry and mix.


When the dates have finished soaking, pour them and the water into a blender and pulse into a thick paste. Add the date mixture and the grated carrots into the batter and fold together.


Scoop the batter into the prepared cupcake cases, filling to about two thirds of the way, and bake for 22-25 minutes.


Allow your cupcakes to cool for a few minutes in the tin before transferring them to a wire rack to cool completely. Pair with cream cheese frosting and enjoy!
Why pitted dates, I hear you ask? Dates are typically used in a sticky toffee pudding, adding a unique rich and sticky sweetness that I thought would make the perfect addition to carrot cake cupcakes.
Let me know what you think in the comments!