All you need is some butter, flour, sugar and about half a jar of strawberry jam and you've got the ingredients for a delicious teatime treat!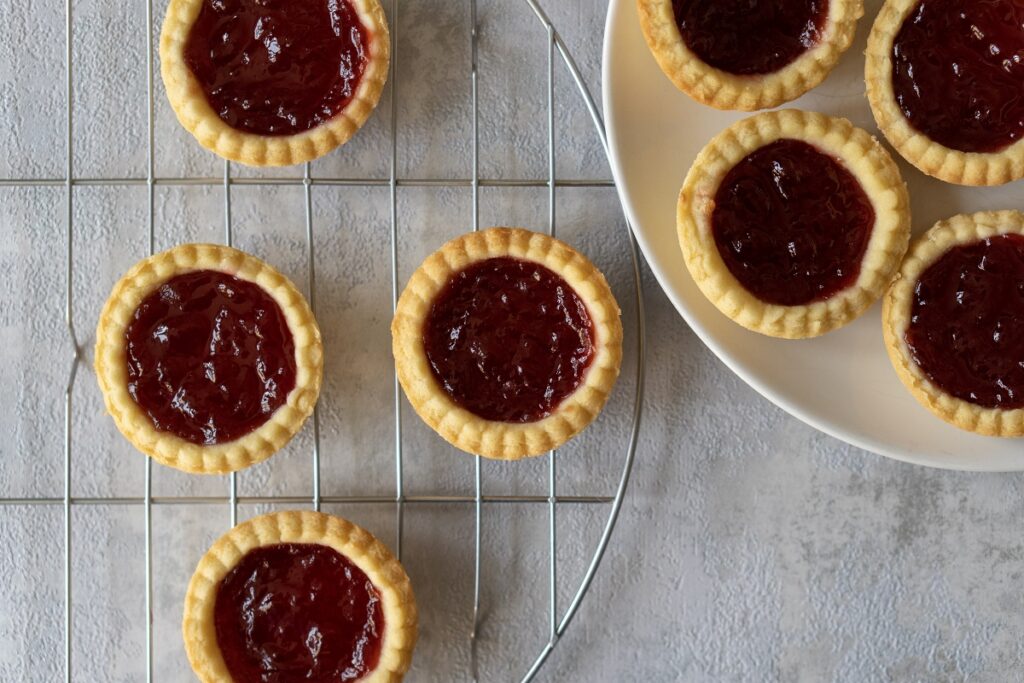 Crisp, buttery pastry, filled with sticky sweet strawberry jam. What's not to love? These strawberry jam tarts look great, taste great and are so easy to make! 
It's a simple, classic recipe that's perfect when you're in need of a relatively quick dessert, or an afternoon activity for the kids. Because when I say easy, I really mean it.
The pastry is very quick to pull together. It's essentially a sweetened shortcrust pastry, but not too sweet – we'll leave that to the strawberry jam!
Once you've made your pastry, it needs some time to chill in the fridge or freezer, then all that's left to do is cut out some cases, fill them with a generous dollop of jam and bake for 15 minutes.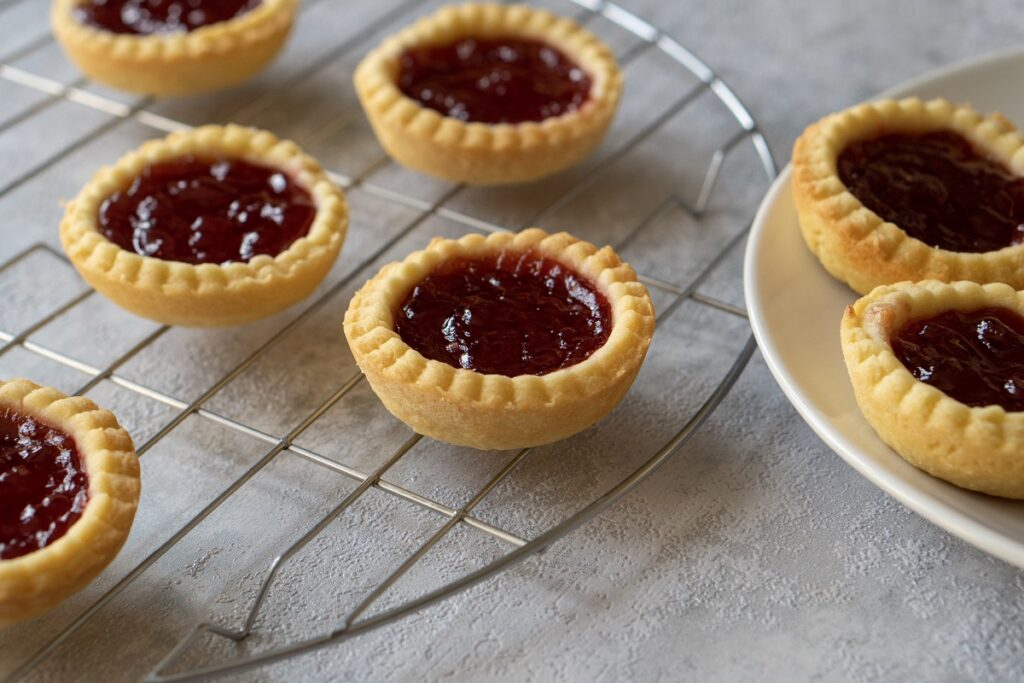 The other great thing about these tarts is that you can actually use any kind of jam you want. I love strawberry jam, so that was my go-to, but you can go for raspberry, blackberry, apricot jam – or a totally mixed batch.
INGREDIENTS
200g cold butter
325g plain flour
100g caster sugar
200g seedless strawberry jam
METHOD
Make 18
To make the pastry, start by adding the butter to a large bowl in small chunks or slices, followed by the plain flour and a pinch of salt. Rub together until the mixture resembles fine breadcrumbs. Add the sugar and a couple of tablespoons of cold water, then press the mixture into a dough.


Turn out onto a lightly floured surface and knead gently for a minute or two. Wrap the pastry with cling film and pop into the freezer for at least 20 minutes. While the pastry is in the freezer, grease a 12-hole and a six-hole muffin tin with butter.


After 20 minutes, take the pastry out of the freezer and preheat your oven to 180°C (350°F, gas mark 6). Roll out the pastry to about 1/2cm thick and cut discs that are about the cake size as the holes in your muffin tin. Remember that jam tarts are smaller than cupcakes or muffins, so the pastry case will be much shorter. Press a desk into each hole.


Divide the strawberry jam between the pastry cases, then transfer the tins to your oven and bake for 15 minutes until the pastry cases are lovely and golden. Leave your tarts to cool in their tin for 10 minutes then transfer to a wire rack to cool completely. Serve with fresh cream for an extra treat!
Any leftovers? Your jam tarts will last in an airtight food container for three days. That's if you don't polish them off on day one…