The countdown to Valentine's Day is on!
We're just over three weeks away from the most romantic day of the year, and I've got A LOT of recipe ideas to keep you busy in the run up. Starting with my Pink Velvet Doughnuts.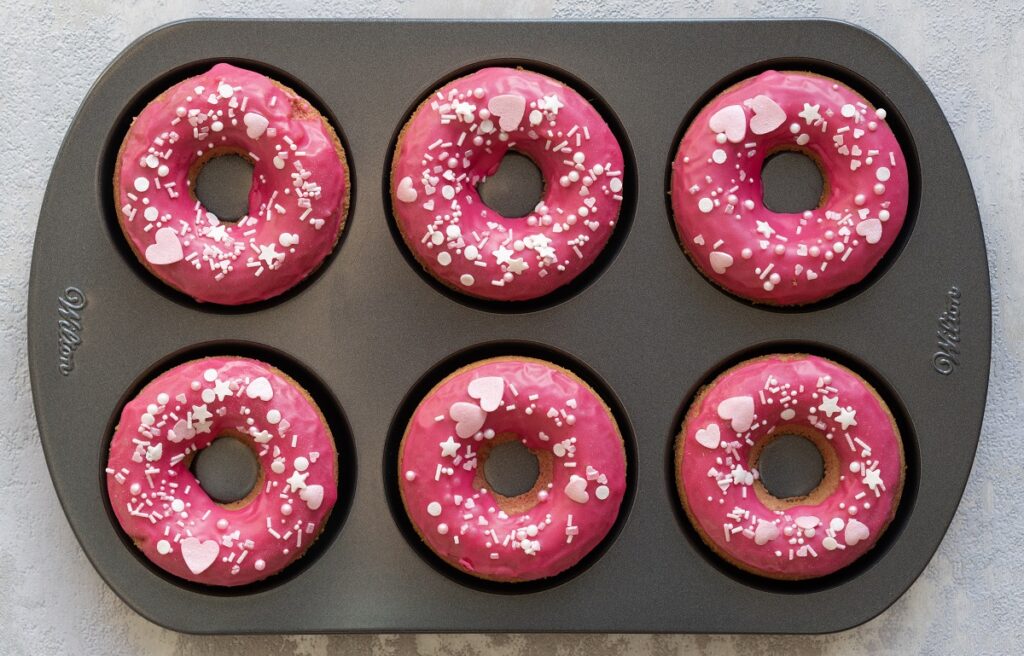 Not only are they healthier than fried doughnuts, they're actually a lot easier and much quicker to make. So easy in fact, you could have them in and out of the oven in just 20 minutes! Make your glaze, give them a good dip and you've got a delicious batch of light and fluffy sweet treats to share with your favourite person.
Now that's got to put a smile on your face!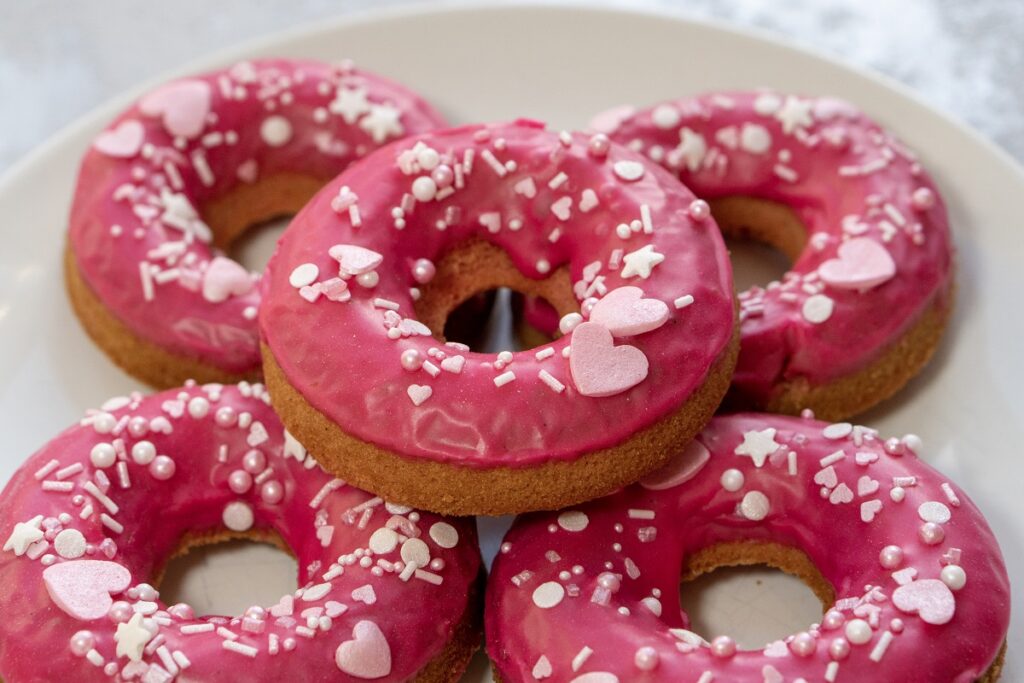 INGREDIENTS
Makes 6
Doughnuts:
75g plain flour
60g sugar
½ tsp baking soda
½ tsp salt
60ml milk
1 egg
1tbsp olive oil
1tsp pink food gel
1tbsp natural yoghurt
½ tsp vanilla extract
Icing:
120g icing sugar
1-2tbsp milk
1/2tsp vanilla extract
1/2tsp pink food gel
Pink and white sprinkles to decorate
METHOD
Pre-heat your oven to 160°C (320°F, gas mark 4) and lightly brush a doughnut tin with oil or butter.


Sift the flour, sugar, baking soda and salt into a bowl. Measure the milk into a jug, add the egg, oil, yoghurt, vanilla and pink food gel and whisk together. Pour the wet mixture into the dry and mix until well combined.


Pour the batter into the prepared tin, filling each doughnut cup about three quarters of the way. Bake for 12 minutes until light and springy. Allow your doughnuts to cool for 10 minutes in their tin before moving to a wire rack to cool completely.


While your doughnuts are cooling, prepare your icing. Sift the icing sugar into a bowl, add one tablespoon of milk and mix to combine. If the glaze is too thick, add one teaspoon of milk at a time until you've reached the desired consistency. Add the vanilla extract and pink food gel and mix thoroughly.


Once your doughnuts have cooled, dip each one into the glaze until the top is well coated then return to the wire rack. Top with sprinkles straight away. Leave the glaze to set at room temperature for 25 minutes and enjoy!
What other flavour doughnuts would you like to see on The Sweet Taste Bakery? Drop me a comment below!