These miniature cupcakes are the perfect bite size treat! Ideal for parties, afternoon tea…or just anytime you fancy something small and sweet. 
You guys know I love making cupcakes. I think half of my recipes are cupcakes, and believe me when I tell you there's plenty more where they came from. But I've decided I need to share a series of mini versions with you too. Just look at how dinky and cute they are!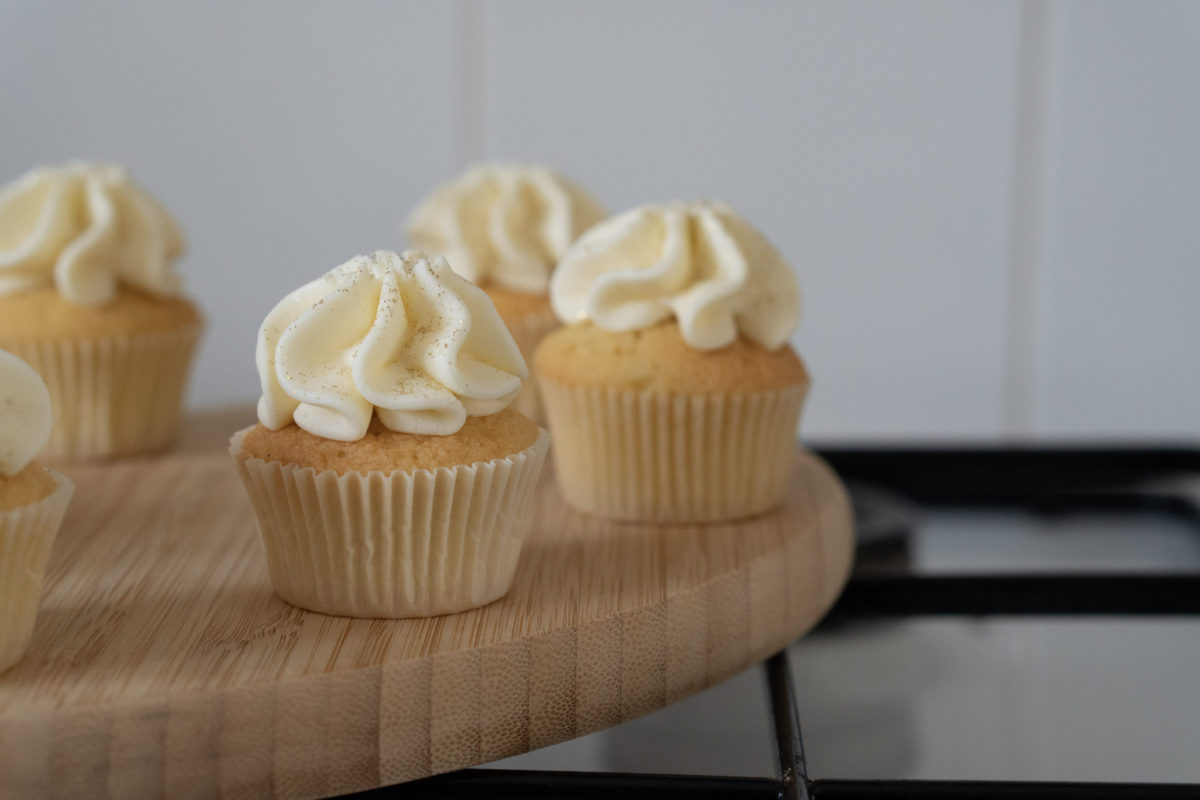 This recipe is super simple and easy to follow. It's essentially a traditional vanilla sponge mix, but I've added a little bit of natural yoghurt, which will help to keep your cupcakes really light and moist. 
You will need a bit of special equipment for these cupcakes – mini cupcakes obviously call for both mini tins and cases, but you can find these and most kitchen or bakeware stores. Something else that I also find super helpful is a miniature ice cream scoop. Not only do they come in handy for mini portions or batter, they're great for making truffles too, so I really recommend grabbing one if you can. If not, a couple of spoons will serve you just fine!
Remember that the baking time for these minis is also a bit different from their full sized counterparts – I find that for my oven, 15 minutes is perfect, but you can always do a bit of testing to find the right time for you.
INGREDIENTS
Makes 12
65g self raising flour
65g caster sugar
65g butter
1 egg
2tbsp natural yoghurt
1tsp vanilla extract
METHOD
Preheat your oven to 140°C (280°F, gas mark 1) and place 12 mini cupcake cases in a mini cupcake tin. 

Crack the egg into a bowl, add the sugar and beat with a whisk. Melt the butter and add to the egg mixture, followed by the yoghurt and vanilla. Mix until well combined. 

Sift in the flour, baking powder and a pinch of salt, and gently fold into the wet ingredients. Be careful not to overmix – stop when you can't see anymore flour.

Divide the batter between the mini cupcake cases, filling to about two thirds of the way and bake for 15 minutes. 

Allow your cupcakes to cool for a few minutes in the tin then transfer to a wire rack to cool completely. Top with a little dollop of vanilla buttercream and enjoy!
What other miniature cupcakes would you like to see on The Sweet Taste Bakery? Drop me a comment below!