White Chocolate Buttercream
If you have a sweet tooth like me, then you're going to fall in love with my white chocolate buttercream frosting. So creamy, so rich, so decadent – it makes your mouth water just thinking about it!
For years, my recipe for white chocolate buttercream remained unchanged. As you'd probably expect, it was a delicious combination of butter, icing sugar, melted white chocolate and just a hint of vanilla. But recently, after making myself a mug white hot chocolate, I decided to add something new to the mix. And oh my god, it made the world of difference.
That's right, I'm talking about white hot chocolate powder! It's only a small addition but trust me, it makes a big difference.
I have been using white hot chocolate powder ever since and it really does take that white chocolate flavour to a whole other level. I use Whittard's Luxury White Hot Chocolate, which you can buy online or in Whittard stores, but there are other brands available.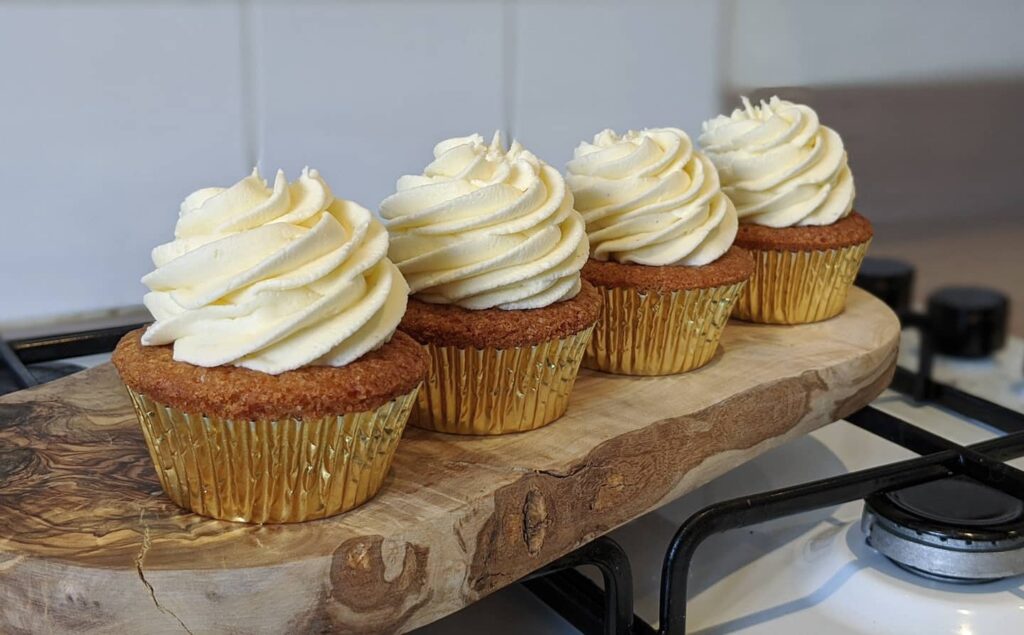 For the white chocolate itself, you don't have to spend a lot of money to get that great flavour – the supermarket own-brand bars work perfectly. But it's important to take care when melting white chocolate, especially in the microwave as it can burn very easily. Make sure to melt your chocolate in short bursts or add it to a bowl over a pan of hot water (aka a bain marie).
It's also important to leave your chocolate to cool to room temperature before adding it to the buttercream – if your chocolate is too hot, it will melt the butter and cause the mixture to split.
This buttercream works perfectly with a wide range of delicious bakes, including my Irresistible Chocolate Cupcakes.
INGREDIENTS
450g icing sugar
250g softened unsalted butter
50g white hot chocolate powder
100g white chocolate
1tsp vanilla extract
2tbsp milk
METHOD
Start by breaking the white chocolate into pieces. Add to a heatproof bowl and melt it in the microwave for around 90 seconds, stopping to check and stir the chocolate every 15-20 seconds. Alternatively, you can melt the chocolate in a bowl over a pan of hot water. Leave the chocolate to cool.


Cut the butter into small chunks, then mix using a stand or hand-held mixer on a medium speed for 5 minutes until it goes pale and gains some volume. You will need to stop your mixer and scrape down the bowl a couple of times.


Sift in your icing sugar and white hot chocolate powder one or two tablespoons at a time and fold into the butter using a spatula, before switching to your mixer on a low speed to fully combine. Repeat until you've used all of the dry ingredients.


Once the white chocolate has cooled to room temperature, pour it into the buttercream and mix again on a low speed until fully incorporated. If your buttercream is a little too thick, add one to two tablespoons of milk to loosen it up.


Once you've reached the desired consistency, add your vanilla extract and mix on a low speed for one final minute until your buttercream is light and fluffy.
This recipe makes roughly enough buttercream for 12 cupcakes, but if you do have any leftover, it freezes brilliantly. Put any remaining buttercream into an airtight box and keep it in the freezer for up to three months.
What's your favourite buttercream flavour? Let me know in the comments!