Irresistible Chocolate Cupcakes
Sometimes you just need a delicious chocolatey treat, and this rich, moist, fluffy cupcake recipe will really hit the spot. Not only are they easy to make, but there's tons of delicious chocolate flavour in every bite!
And when I say easy to make, I mean seriously easy to make. Add the dry ingredients in a bowl and the wet ingredients in a jug – mix together and you have your super chocolatey cupcake batter.
It's worth noting that unlike my basic vanilla cupcake recipe (which you should check out, while you're here), this batter will be quite liquidy, but don't panic – it's meant to be that way. The combination of milk and sour cream does thin out the batter but also produces a light and moist texture that really makes these cupcakes irresistible.
Don't forget to add a generous dollop of chocolate buttercream for a double helping of chocolatey goodness!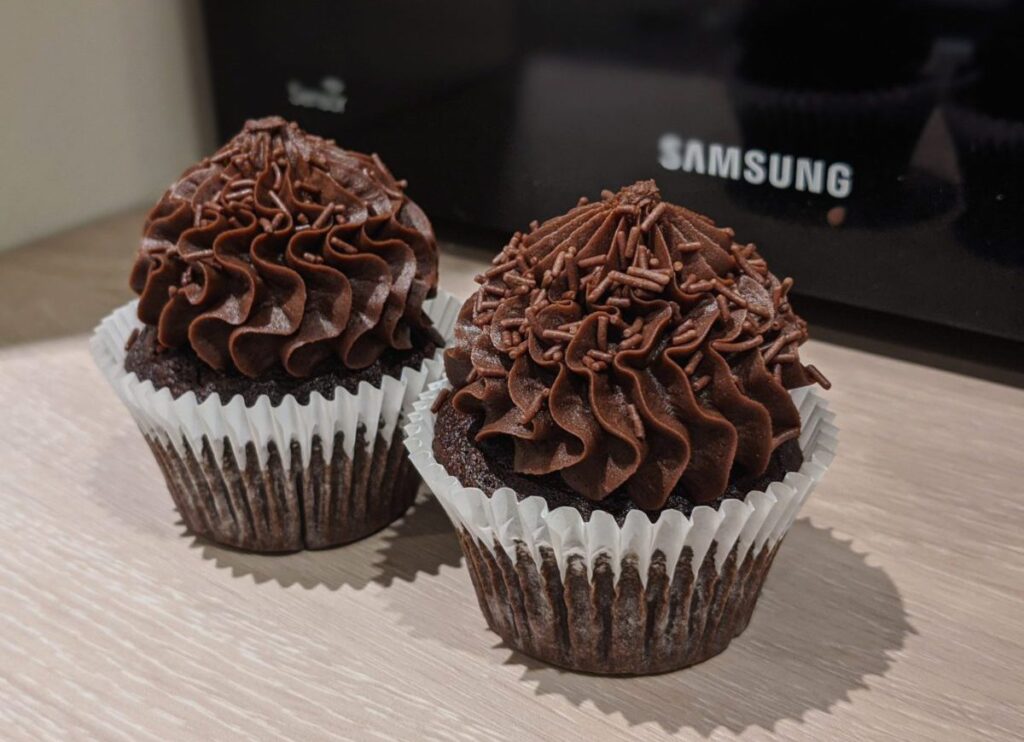 INGREDIENTS
175g plain flour
1tsp baking soda
225g caster sugar
60g cocoa powder
175g softened butter
1/4tsp salt
1tsp ground coffee
2 large eggs (room temperature)
175ml milk
2tbsp sour cream
1tsp vanilla extract
METHOD
Sift the flour, baking soda, sugar, salt, cocoa powder and coffee in a large bowl and whisk together. Add the butter and mix to fine crumbs. In a jug, whisk the eggs, milk, sour cream and vanilla together. Pour into the dry ingredients and mix thoroughly.


Divide the cupcake batter between the prepared cupcake cases, filling to about two thirds of the way. Bake for 22-25 minutes, or until a toothpick inserted into the centre of the cupcakes comes out clean.


Allow the cupcakes to cool for a few minutes into the tin, then transfer to a wire rack to cool completely. Top with your favourite frosting and enjoy!
If you've tried my chocolate cupcake recipe then don't forget to leave me a comment below!