Chocolate Buttercream Frosting
Light, smooth and full of chocolatey flavour, my chocolate buttercream recipe is the perfect pairing for a wide range of sweet treats…or a simple spoon if you just can't wait for your cakes to cool!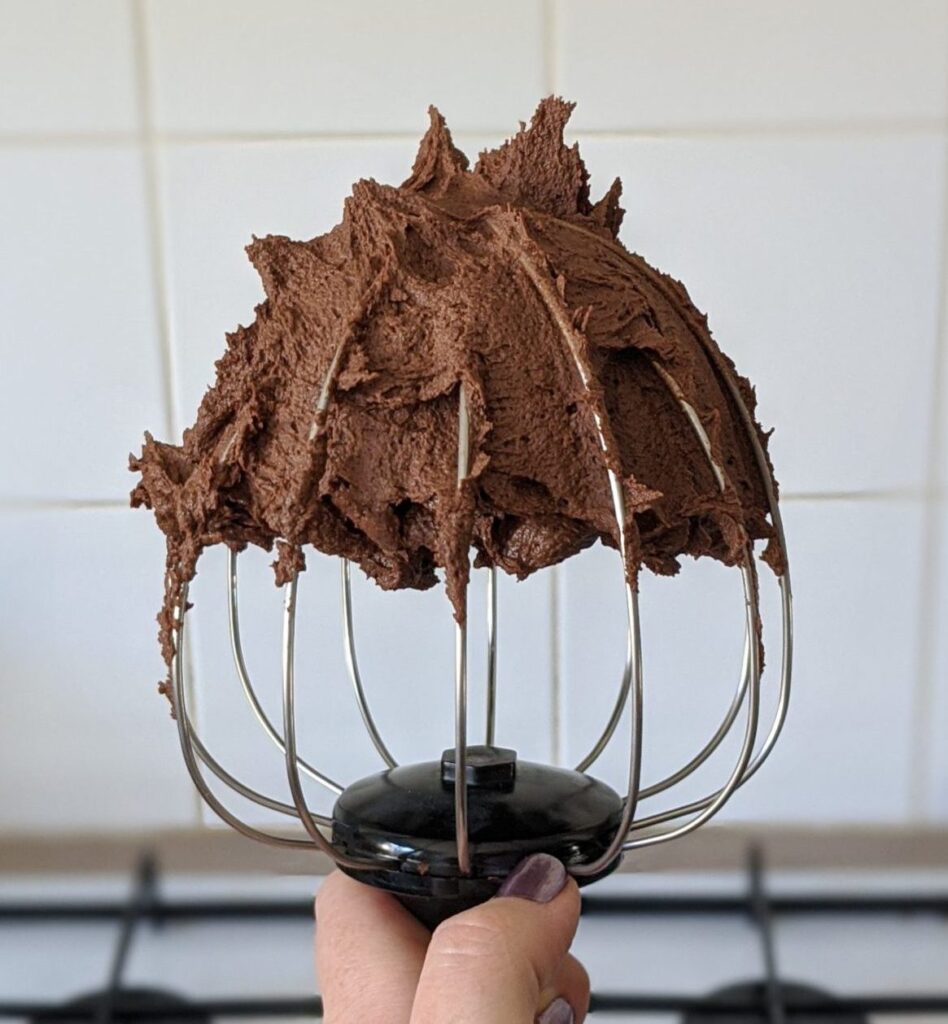 If you've read my vanilla buttercream recipe, you'll be pretty familiar with the basic process of whipping up a batch of delicious frosting. If not, then don't worry – this recipe has just three simple steps…
The first thing you'll need to do is beat your butter until it's fluffy and pale. Butter starts out pretty yellow in colour but as you beat it, you add air into it, which gives it that paler, lighter texture.
The next thing I like to do is add the cocoa powder and icing sugar one tablespoon at a time. At this stage it can be easy to overmix your buttercream, which can cause the buttercream to become bubbly. I prefer to mix my cocoa powder and icing sugar in by hand first, using a spatula, before using a hand mixer or stand mixer to fully combine.
Adding the vanilla is the final step, which will give your buttercream an amazing flavour.
Personally, I don't like using melted chocolate in chocolate buttercream. That's not to say you can't use it alongside cocoa powder, but after a bit of trial and error, I found that this is the best method for achieving the fluffiest, creamiest frosting that will keep you coming back for more!
INGREDIENTS
350g icing sugar (confectioner's sugar)
250g softened unsalted butter
80g cocoa powder
2tsp vanilla extract
3tbsp double cream
METHOD
Start by cutting your butter into small chunks, then using a stand mixer or hand-held mixer, beat the butter on a medium speed for 5 minutes until it goes pale and gains some volume. You may need to stop your mixer and scrape down the bowl a couple of times.


Sift in your cocoa powder and icing sugar one to two tablespoons at a time and fold into the butter using a spatula, before switching to your mixer on a low speed to fully combine. Repeat until you've used all of the cocoa power and icing sugar, then mix in the double cream.


Once you've reached the desired consistency, add your vanilla extract and mix on a low speed for another minute until your buttercream is light and fluffy.
This recipe makes roughly enough for 12 cupcakes (depending on how much buttercream you like, of course), but if you do have any leftovers, buttercream freezes really well. Put it into an airtight food container and freeze for up to three months – just don't forget to make a note of the date or write it on the box.
Have you tried my chocolate buttercream recipe? I'd love to hear your feedback in the comments below.