Light and fluffy vanilla sponge, deliciously sweet raspberry jam, creamy vanilla frosting and everyone's favourite childhood biscuit. These are my ultimate Jammie Dodger Cupcakes!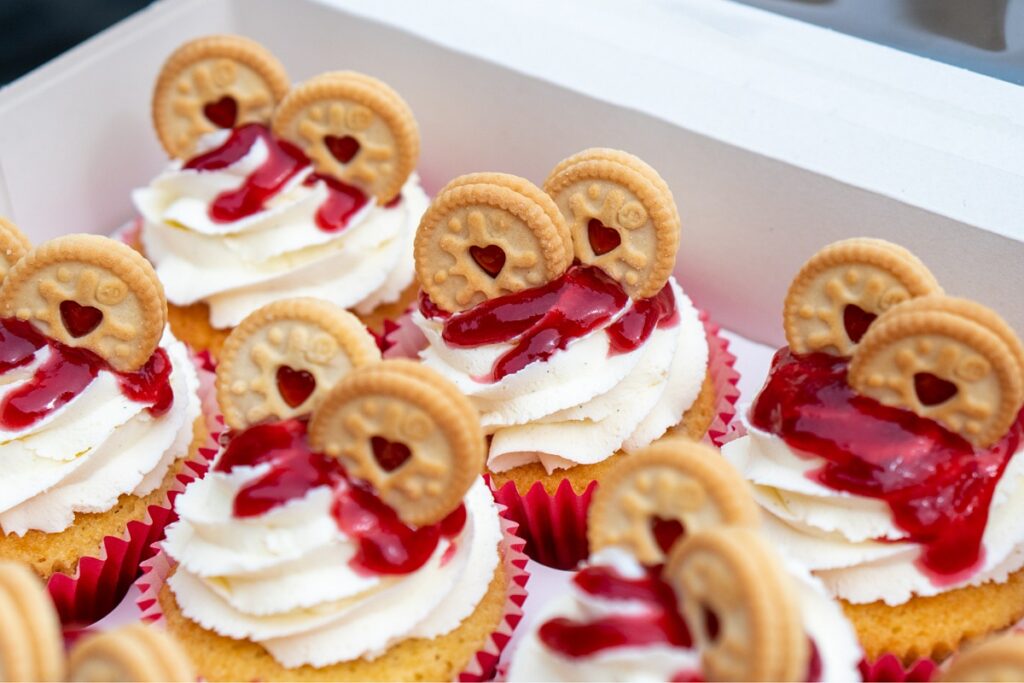 Somehow, I actually forgot just how good Jammie Dodgers are. I hadn't eaten one for years, until I saw a bag of mini biscuits on a random shopping trip to B&M Bargains. So I bought a pack…or three…and these adorable raspberry delights gave me that all important recipe inspiration!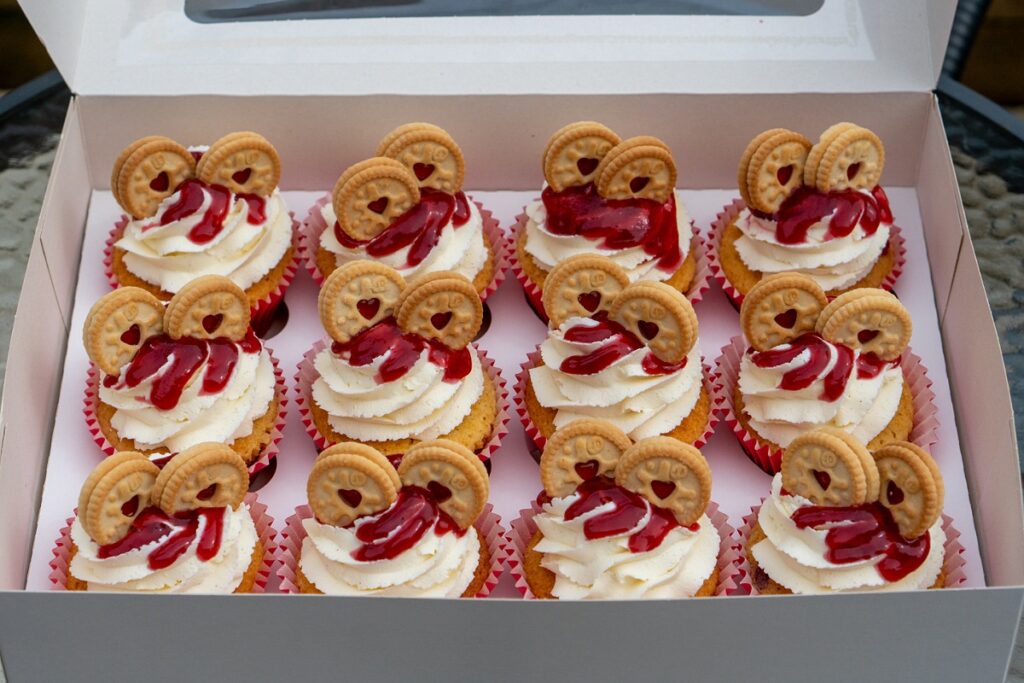 Now, as you guys know, I'm always working on updating and improving my recipes, and I've made a couple of small tweaks to my basic vanilla cupcake recipe to make it even more irresistible.
The big one is substituting half the butter for vegetable oil. I didn't think it would make a huge difference when I first tried it – it was more of an experiment, and a change from the standard victoria sponge-style recipe – but wowza, it makes my cupcake so incredibly moist. I know some people hate that word, but there's no better description. These cupcakes are MOIST.
Bringing things back to the Jammie Dodger inspo, there's the simple addition of raspberry jam. Just one teaspoon is enough to give you a fresh and fruity kick when you bite into it. Then you've got a generous serving of vanilla buttercream, an extra helping of raspberry jam and, the stars of the show, two mini Jammie Dodger biscuits!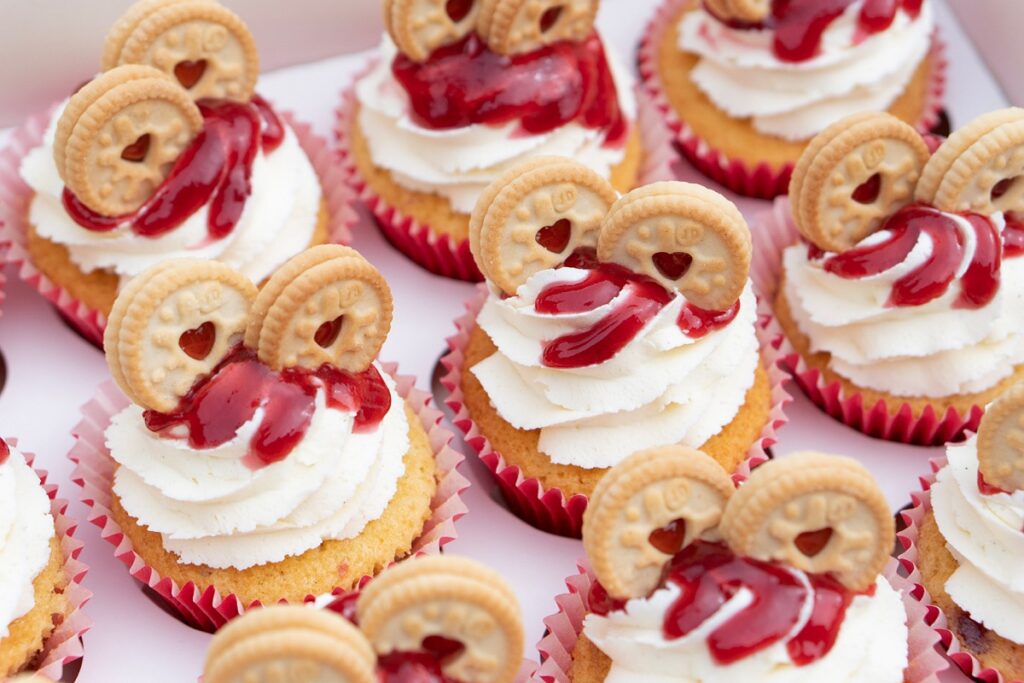 Not only are these cupcakes super yummy and easy to make (I'm talking minimal washing up), they have the added bonus of looking absolutely adorable too. Very Instagramable. So if you're planning on making these cutie cupcakes this week, don't forget to tag me @thesweettastebakery.
Happy baking!
INGREDIENTS
Cupcakes:
150g self raising flour
160g caster sugar
80ml vegetable oil
75g unsalted butter
¼ tsp salt
3 large eggs
3 tbsp natural yoghurt
1 tsp vanilla extract
12 tsp seedless raspberry jam

Buttercream:
250g unsalted butter
500g icing sugar
1tsp vanilla extract
2-3tbsp milk

Decoration:
24 mini Jammie Dodgers
100g seedless raspberry jam
METHOD
Preheat your oven to 140°C (280°F, gas mark 1) and place 12 cupcake cases into a muffin tin.
In a large bowl, cream together the butter, oil and sugar until well combined. Add the eggs, natural yoghurt and vanilla extract and mix again. Sift in the flour and a pinch of salt, and fold together. Be careful not to overmix – stop when you can't see anymore flour.
Scoop the cupcake batter into your prepared cases. Add a tablespoon of raspberry jam into each cupcake case and use a toothpick to gently swirl into the batter.
Bake your cupcakes for 22-25 minutes until beautiful and golden, with lovely flat tops. Allow your cupcakes to cool for around 10 minutes in the tin before transferring to a wire rack to cool completely.
Now it's time for the buttercream. Using a stand mixer or hand-held mixer, beat the butter on a low-medium speed for five minutes, until it goes pale and gains some volume. Sift in the icing sugar about 100g at a time, beating on a low setting between each addition. Add a couple of tablespoons of milk and the vanilla extract, and give it one final mix.
Add the remaining raspberry jam to a bowl and heat in the microwave for 10-15 seconds. This will loosen it up and make it easier to pipe. Whisk it to get rid of any lumps and pour into a piping bag.
Spoon your buttercream into another piping bag fitted with your favourite nozzle and pipe a generous swirl on top of each cupcake. Pipe a generous dollop of raspberry jam on top of your buttercream and top each cupcake with two mini Jammie Dodgers.
You can keep any leftover cupcakes in an airtight food container at room temperature for up to three days. And don't forget, you can store any leftover buttercream too. It will keep in the fridge for two weeks, or the freezer for three months.
What other biscuit-themed cupcakes would you like to see on The Sweet Taste Bakery blog? Let me know in the comments!