Valentine's Day has come and gone, and Mother's Day has passed us by. Now it's time to look forward to one of my favourite holidays…Easter!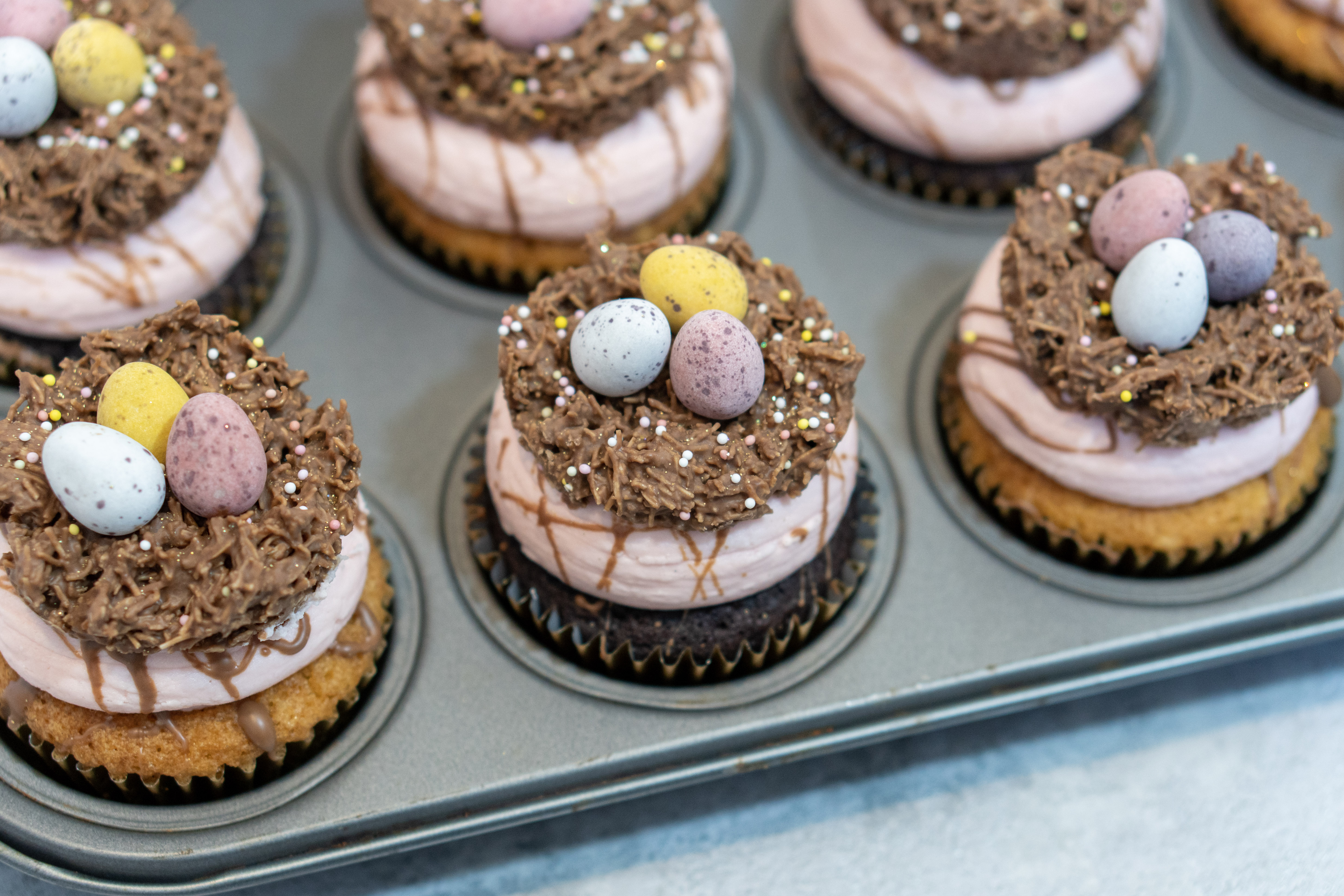 I really do love Easter. It's a bit like a second Christmas for my family – we would always give each other Easter eggs in the morning and then have a big roast for lunch. Which was usually followed by several hours slumped on the sofa watching movies and eating chocolate.
Easter will look a little different again this year, but at least I've got plenty of Easter baking ideas to keep me busy. Starting with my Easter Nest Cupcakes…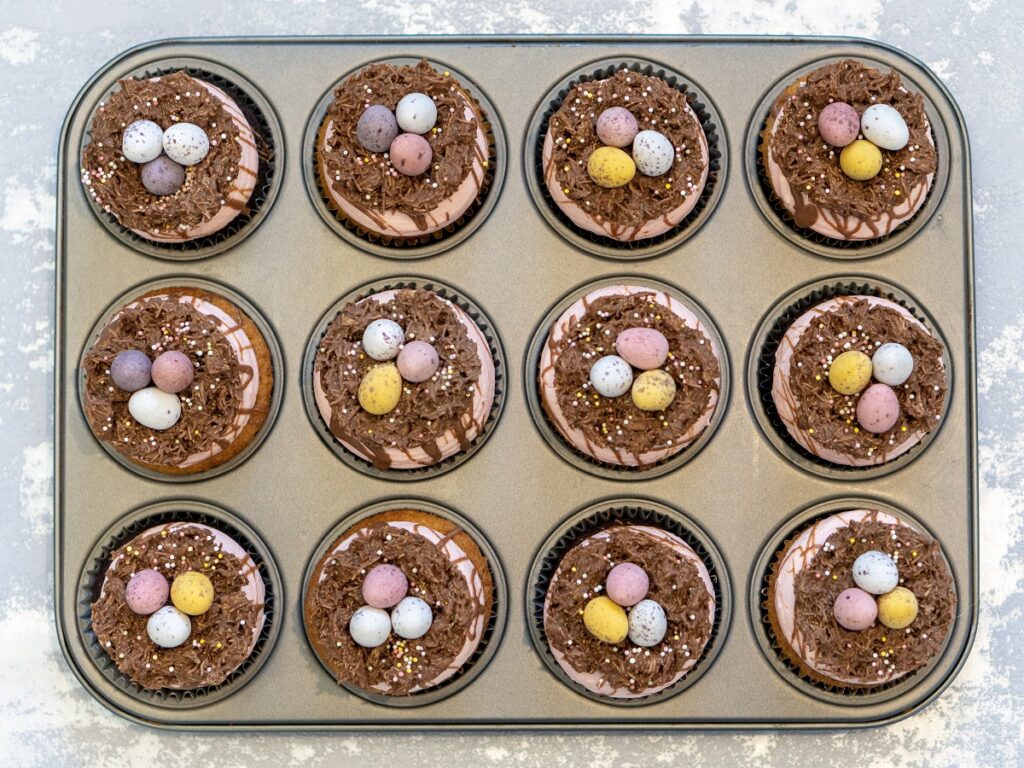 I wanted to mix up the flavours here, honestly, just because I think they look pretty. So you've got both chocolate and vanilla cupcakes, topped with the creamiest vanilla buttercream frosting and milk chocolate drizzle. And if that wasn't enough, you've also got delicious chocolate nests. So it's basically two desserts in one, and who wouldn't want that?
If you haven't made chocolate nests before, you really have to. They're great fun to make, especially with kids, and they're so easy.
The best part? Definitely licking the spoon!
INGREDIENTS
Makes 12
Chocolate nests:
300g milk chocolate
100g Shredded Wheat cereal
36 Mini Eggs
Chocolate cupcakes:
85g self raising flour
½ tsp baking soda
100g caster sugar
30g cocoa powder
80ml vegetable oil
1/4tsp salt
1tsp ground coffee
1 large eggs (room temperature)
80ml milk
1tbsp sour cream
1tsp vanilla extract
Vanilla cupcakes:
60g self raising flour
60g caster sugar
60g unsalted butter
½ tsp baking powder
1 large eggs
2tbsp natural yoghurt
1tsp vanilla extract
Buttercream:
250g softened unsalted butter
600g icing sugar
1tsp vanilla extract
2-3tbsp milk
Pink food colouring
Chocolate drizzle:
15g chocolate
1-2 tbsp vegetable oil
METHOD
Preheat your oven to 140°C (280°F, gas mark 1) and place 12 cupcake cases into a muffin tin.


Start by making your chocolate nests. Line a baking sheet with greaseproof paper. Melt the milk chocolate in the microwave in 20 seconds bursts. Break up the Shredded Wheat cereal and add to the melted chocolate, mixing until all of the cereal is thoroughly coated. Spoon the mixture out onto the baking sheet, making 12 small nests. Top each nest with three Mini Eggs and leave to set.


Now for the chocolate cupcakes. Sift the flour, cocoa powder, baking soda, sugar, salt and ground coffee into a bowl and whisk until thoroughly combined. In a large jug, whisk together the oil, milk, egg, sour cream and vanilla extract. Pour the wet ingredients into the dry and whisk to combine.


Time to move onto the vanilla cupcakes. In another large bowl, cream together the butter and sugar. Add the egg, yoghurt and vanilla extract. Sift in the flour, baking powder and a pinch of salt, and fold together. Be careful not to overmix – stop when you can't see anymore flour.


Divide the chocolate and vanilla cupcake batter between your prepared cases and bake in your preheated oven for 22-25 minutes. Allow your cupcakes to cool for around 10 minutes in the tin before transferring to a wire rack to cool completely.


While your cupcakes are cooling, make your buttercream. Using a stand mixer or hand-held mixer, beat the butter on a low-medium speed for five minutes, until it goes pale and gains some volume. Sift in the icing sugar about 100g at a time, beating on a low setting between each addition. Add a couple of tablespoons of milk, a couple of drops of pink food colouring and the vanilla extract, and give it one final mix.


Next, make your chocolate drizzle. Melt the chocolate in the microwave and mix in a tablespoon or two of vegetable oil. Allow the drizzle to cool slightly. Add your buttercream to a piping bag fitted with a large round piping nozzle and pipe a bulb onto each cupcake.


Dip a small spoon into the chocolate drizzle and wave it over the top of the cupcakes. It can be a little messy, but you should end up with a cool speckled effect on top of your buttercream. Top each cupcake with a chocolate nest and enjoy!
If you have any leftover cupcakes, you can store them in an airtight container at room temperature for up to three days. You can also store any leftover buttercream in the fridge for two weeks, or the freezer for three months. Check out my recent blog post on how to store and save buttercream.