Boozy Banana & Caramel Cupcakes
A few weeks ago, with Christmas creeping ever-closer, I decided to write a list of the cupcakes I'd love to create ahead of the big day. Because if you hadn't guessed already, I make a lot of cupcakes. They're one of my favourite treats to bake!
I had all sorts of ideas, and I honestly wish I could have the next six weeks off to spend experimenting in my kitchen (damn my adult responsibilities). But a special few have been selected, and I bring you one such recipe today.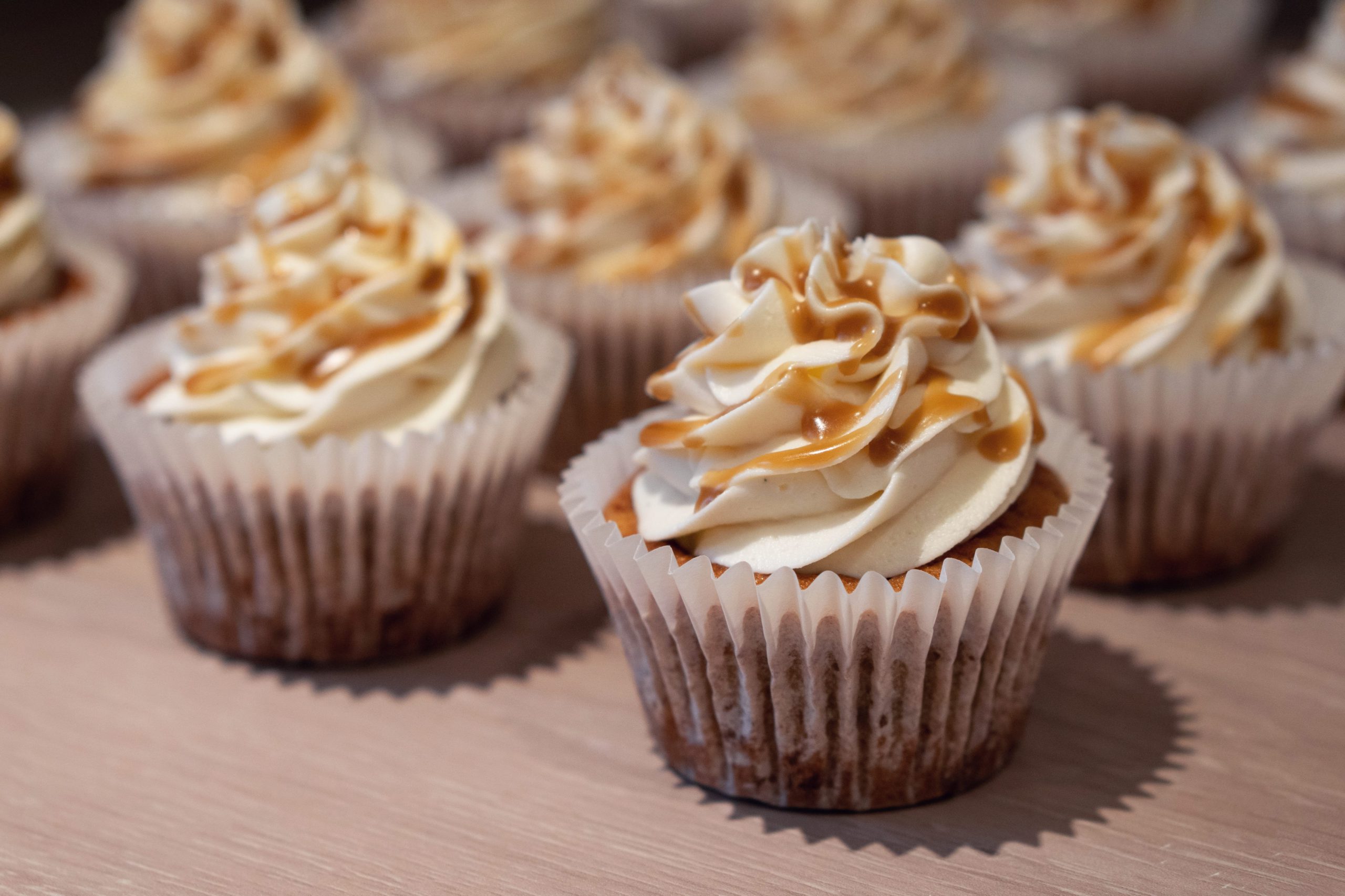 A delicious recipe by the way, especially for the booze, banana and caramel fans out there! The booze of choice being amaretto. It's a flavour I really associate with Christmas, having made it from scratch for a few years running now. It pairs so perfectly with caramel, which pairs so perfectly with banana. A match made in heaven!
*TOP TIP*
If you haven't given your bananas a few days to ripen on their own, then don't panic – I've got a nice little baking hack for you. Pop your bananas onto a tray and bake them at 150°C (300°F, gas mark 2) for about 30-40 minutes. They'll go a dark brown or black colour, and will be soft to touch. Give them time to cool down before using them in the recipe below!
INGREDIENTS
Makes 12
Cupcakes:
2 ripe bananas
175g plain flour
75g caster sugar
75g light brown sugar
100g unsalted butter
½ tsp baking powder
½ tsp baking soda
¼ tsp salt
½ tsp cinnamon
2 eggs
60ml buttermilk
1 tsp vanilla extract
50ml amaretto liqueur
Buttercream:
400g icing sugar (confectioner's sugar)
250g softened unsalted butter
4 tbsp dulce de leche
50ml amaretto liqueur
1tsp vanilla extract

Decoration:
2 tbsp dulce de leche to drizzle
METHOD
Preheat your oven to 170°C (340°F, gas mark 5) and place 12 cupcake cases into a muffin tin. Mash your bananas using a food processor, fork or potato masher, and set aside.


In a large bowl, cream together the butter and sugars until light and fluffy. Scrape down the bowl using a silicone spatula. Add the eggs, one at a time, followed by the mashed banana, buttermilk and vanilla. Sift the flour, baking powder, baking soda, cinnamon and salt into a separate bowl and whisk to combine. Fold the dry ingredients into the wet mix in three parts, until just incorporated. Be careful not to overmix.

Scoop the batter into your prepared cupcake cases, filling to about two thirds of the way, and bake for 20 minutes, or until a toothpick inserted into the centre comes out clean. Allow your cupcakes to cool for about 10 minutes in the tin, then transfer to a wire rack to cool completely.


While they're cooling, take a toothpick and poke some small holes into the centre of each cupcake. Drizzle some of the amaretto liqueur over each cupcake and let it soak in. This will make your cupcakes lovely and moist, and give them a little boozy kick!


For the buttercream, use a stand mixer or hand-held mixer to beat the butter on a low-medium speed for five minutes, until it goes pale and gains some volume. You may need to stop your mixer and scrape down the bowl a couple of times.


Sift in the icing sugar a couple of tablespoons at a time, lightly mixing using a spatula before beating on a low setting between each addition. Once you've used half the icing sugar, add the amaretto, dulce de leche and vanilla extract, then continue to sift in the remaining icing sugar.


Once you've reached the desired consistency, add the buttercream to a piping bag fitted with your favourite nozzle and pipe out a swirl on top of each cupcake. Pop the final 2tbsp of dulce de leche in the microwave for 10-15 seconds and drizzle over the cupcakes using another piping bag or a teaspoon.

If you do have any leftover cupcakes, you can store them in an airtight container for up to two days. You can also store any leftover buttercream in the fridge for two weeks, or the freezer for three months. Check out my recent blog post on how to store and save buttercream.
What do you think of my latest recipe? Don't forget to leave me a comment below – I'd love to hear from you!