Baileys Chocolate Orange Cupcakes
Counting down to Christmas with another mouth-watering chocolatey recipe!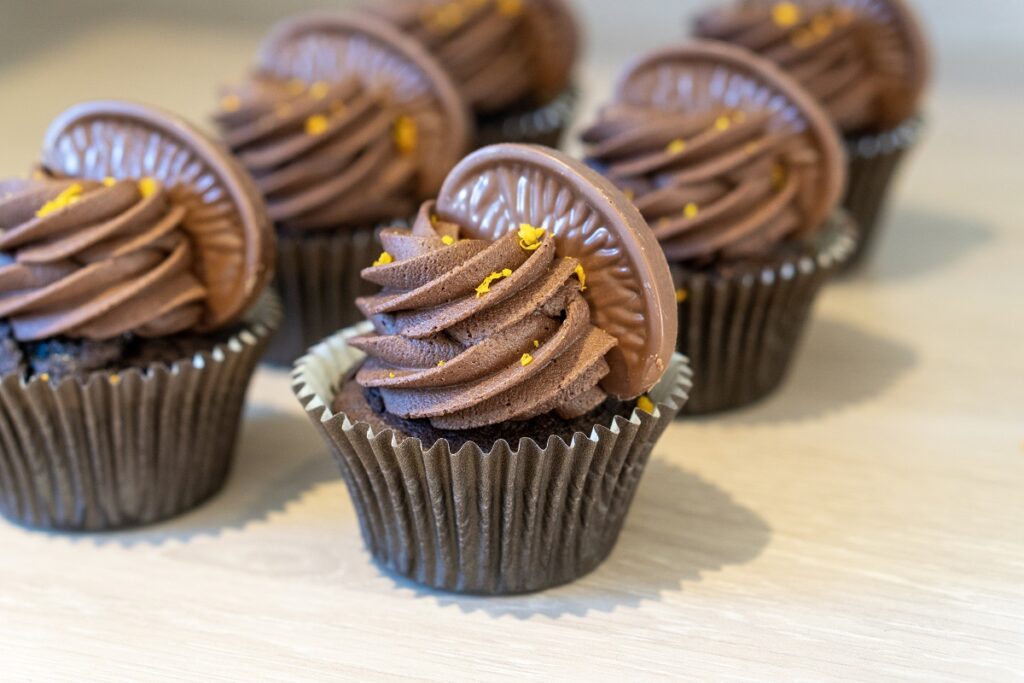 I love Baileys Cream…it's such a treat. And they come up with the best flavours. So when I saw Baileys Orange Truffle Cream Liqueur on offer at Tesco, I knew it would make the perfect base for an incredible cupcake.
Because let's face it – chocolate and orange is an amazing flavour combination.
I used my Irresistible Chocolate Cupcake recipe as a starting point, adding the Baileys along with orange extract to really make this cupcake stand out.
You can find orange extract in most supermarkets – I picked up some Dr. Oetker Valencian Orange Extract at Tesco for £1.30.
I finished them off with a delicious dollop of chocolate orange buttercream – again made with Baileys and orange extract – a segment of Terry's Chocolate Orange and a little orange zest.
Trust me, these cupcakes will fly out of your kitchen!
INGREDIENTS
Makes 12
Cupcakes:
175g plain flour
1tsp baking soda
225g caster sugar
60g cocoa powder
175g softened butter
1/4tsp salt
1tsp ground coffee
2 large eggs (room temperature)
100ml milk
75ml Baileys Orange Truffle Cream Liqueur
1tsp orange extract
2tbsp sour cream
1tsp vanilla extract
Buttercream:
400g icing sugar (confectioner's sugar)
250g softened unsalted butter
100g cocoa powder
2tsp vanilla extract
4 tbsp Baileys Orange Truffle Cream Liqueur
1/2 tsp orange extract
Decoration:
12 Terry's Chocolate Orange segments
Orange zest
METHOD
Preheat your oven to 150°C (302°F, gas mark 2) and place 12 cupcake cases into a muffin tin.


Sift the flour, baking soda, sugar, salt, cocoa powder and coffee in a large bowl and whisk together. Add the butter and mix to fine crumbs. In a jug, whisk the eggs, milk, sour cream, orange extract, vanilla and Baileys together. Pour into the dry ingredients and mix thoroughly.


Divide the cupcake batter between the prepared cupcake cases, filling to about two thirds of the way. Bake for 25 minutes, or until a toothpick inserted into the centre of the cupcakes comes out clean. Allow the cupcakes to cool for a few minutes into the tin, then transfer to a wire rack to cool completely.


While your cupcakes are cooling, take a toothpick and poke some small holes into the centre of each cupcake. Drizzle a teaspoon or so of Baileys Orange Truffle Cream Liqueur and let it soak into the cupcake. This will make your cupcakes lovely and moist, and bursting with that gorgeous Baileys flavour!


Next, make a start on your buttercream. Using a stand mixer or hand-held mixer, beat the buttercream on a medium speed for 5 minutes until it goes pale and gains some volume. You may need to stop your mixer and scrape down the bowl a couple of times.


Sift in the cocoa powder and icing sugar one to two tablespoons at a time and fold into the butter using a spatula, before switching to your mixer on a low speed to fully combine. Once you've mixed in half of your icing sugar and cocoa powder, add the Baileys, vanilla and orange extract, and mix thoroughly. Add the rest of your dry ingredients.


Once you've reached the desired consistency, add the buttercream to a piping bag fitted with your favourite nozzle and pipe out a swirl on top of each cupcake. Finish them off by decorating each cupcake with a Terry's Chocolate Orange segment and orange zest.
Do you want to see more Baileys recipes on The Sweet Taste Bakery? Let me know in the comments!