Guys, there are less than seven weeks to go until Christmas. Just 45 days. Are you as excited as I am?!?
I know Christmas will feel a little different this year without large family gatherings, Christmas markets, Christmas parties, etc. BUT that doesn't mean you can't enjoy this time of year.
My go to? Get in the kitchen and spread some Christmas cheer with delicious baked goods!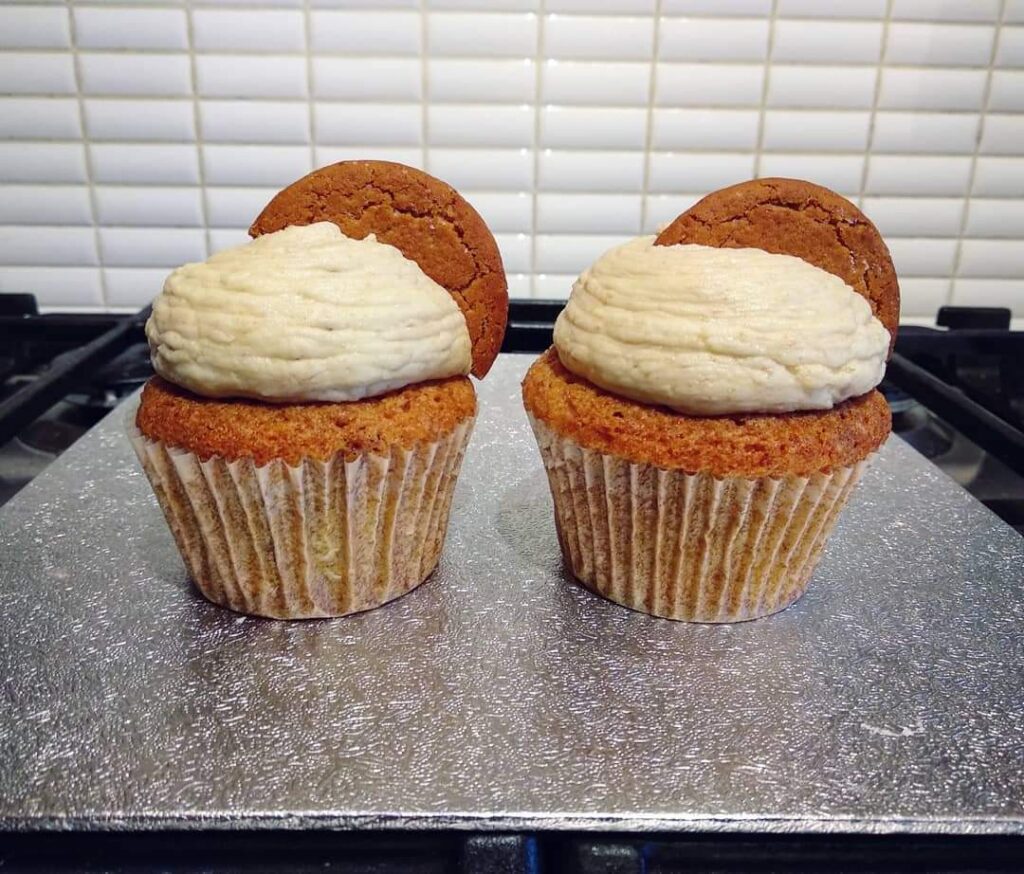 I've always thought of gingerbread as super Christmassy, and I love how these cupcakes are just bursting with that lovely, warming gingernut flavour. They're so simple too – perfect for making with the little kids and big kids alike before the big day.
INGREDIENTS
Makes 12 cupcakes:
160g self-raising flour
80g caster sugar
80g light brown sugar
160g softened butter
1tsp baking powder
75g gingernut biscuits
3 medium eggs (room temperature)
1tsp vanilla extract
50ml gingerbread syrup / spiced rum
Buttercream:
400g icing sugar (confectioner's sugar)
250g softened unsalted butter
75g gingernut biscuits
50ml gingerbread syrup / spiced rum
1tsp vanilla extract
6 gingernut biscuits to decorate
METHOD
Pre-heat your oven to 160°C (320°F, gas mark 4) and place 12 cupcake cases into a muffin tin. Place the gingernut biscuits into a food processor and pulse into fine crumbs (save time by blitzing the biscuits for your cupcakes and your buttercream).


Sift your flour, baking powder, sugar and a pinch of salt into a large bowl and whisk together. Add the eggs, butter, vanilla and gingerbread syrup, and mix until well combined. Alternatively, use a gingerbread spiced rum such as Captain Morgan for a delicious festive kick! Next, fold the biscuit crumbs into the batter.


Scoop the batter into the prepared cupcake cases, filling to about two thirds of the way, and bake for 22 minutes. Allow your cupcakes to cool for about 10 minutes in the tin, then transfer to a wire rack to cool completely.


While your cupcakes are cooling, take a toothpick and poke some small holes into the centre of each cupcake. Drizzle a teaspoon or so of gingerbread syrup or spiced rum and let it soak into the cupcake. This will make your cupcakes lovely and moist, and bursting with that gingerbread flavour!


Next, make a start on your buttercream. Using a stand mixer or hand-held mixer, beat the butter on a low-medium speed for five minutes until it goes pale and gains some volume. You may need to stop your mixer and scrape down the bowl a couple of times.


Sift in the icing sugar a couple of tablespoons at a time, lightly mixing using a spatula before beating on a low setting between each addition. Repeat until you've used all of your icing sugar. Add the vanilla extract, gingerbread syrup or rum and the rest of your gingernut crumbs, and mix until fully incorporated. Add a little more icing sugar if your buttercream is too thin.


Add the buttercream to a piping bag fitted with your favourite nozzle and pipe out a swirl on top of each cupcake. Finish them off by decorating with half a gingernut biscuit.
Are you a gingerbread fan? I would love to hear your feedback! Leave me a comment below.