Four Must-Have Piping Nozzles
Like most things in life, piping the perfect buttercream swirl takes a lot of practice. I know everyone says, 'practice makes perfect', but this really is true when it comes to cake decorating. It also comes from having a steady hand, a great buttercream recipe (which you can find here) and, of course, a few good piping nozzles.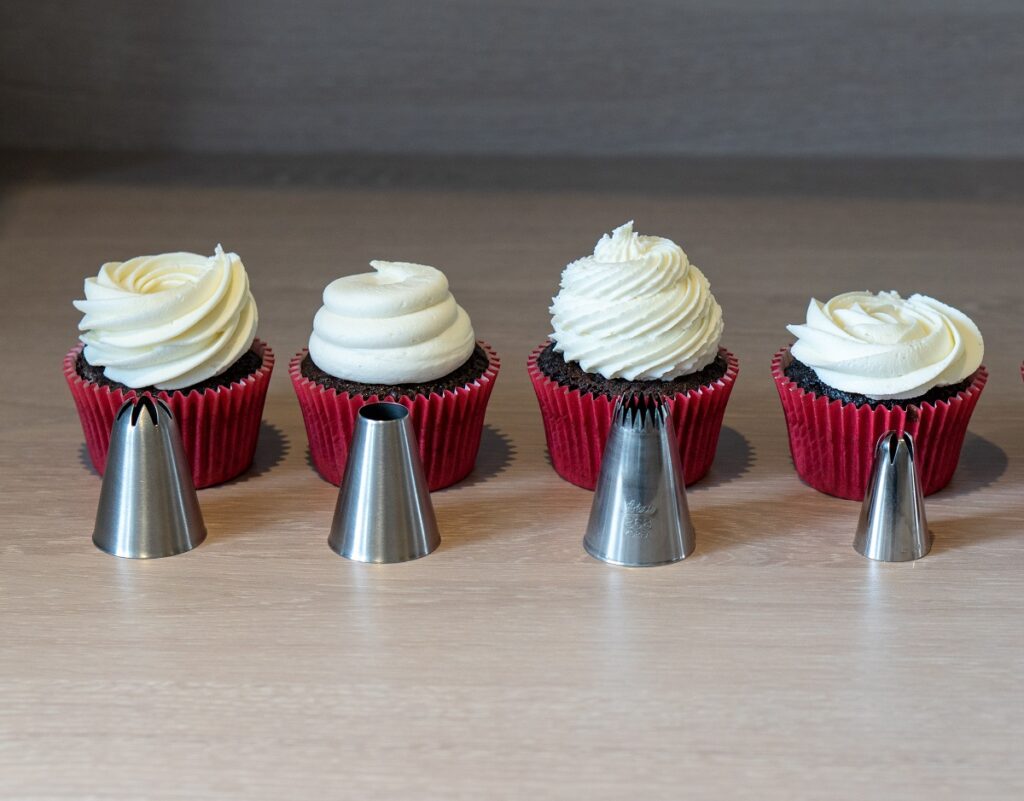 Over the years I've collected A LOT of nozzles (or piping tips…whatever you prefer to call them). As you'd expect, when I first started baking, I was gifted a wide variety of baking equipment on every special occasion, and that included a fair few piping nozzle sets.
I'll admit that it took me a long time to get to grips with piping. It's actually quite intimidating – decorating a plain cake or cupcake is like starring at an empty canvas and let me tell you, I'm a terrible artist! But, over time, I started playing around with different nozzles and techniques, and I grew more confident.
Fast forward to 2020 and I LOVE creating beautifully decorated treats. As you can probably tell…
Over time I also found a small selection of piping nozzles that have become my firm favourites. Each one creates a unique decoration and can be used in different ways, which is why I find myself using them over and over again.
Whether you're a beginner or an avid baker looking for some tried and tested tools, here's my list of four must-have piping nozzles.
I love the results you get from this piping nozzle; the deep grooves create such a unique pattern. You can create flowers, shells, stars, frills and scalloped designs, and with such a large tip you always get a generous dollop of frosting. It's a durable nozzle and fun to play around with. To achieve this style, I started with the piping tip in the middle of the cupcake and created a swirl upward.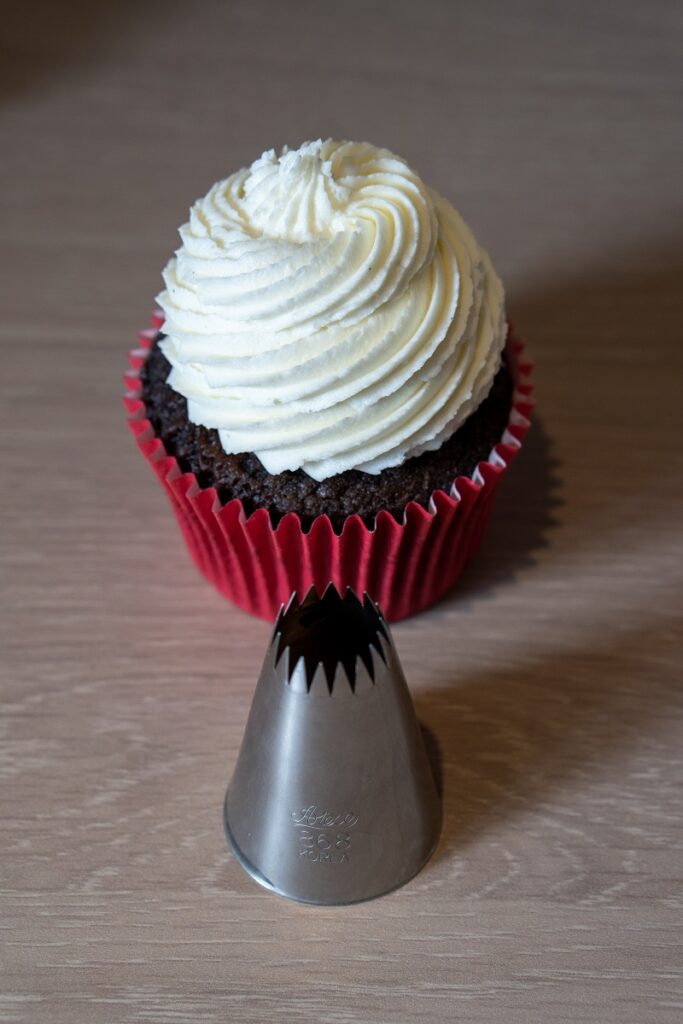 There are so many ways to decorate with a large round piping nozzle – a bulb, small peaks, swirls and more. It gives a lovely smooth, round finish and is perfect for piping onto cupcakes and macarons. This nozzle is very popular, so you can find it on Amazon and in the majority of bakeware stores.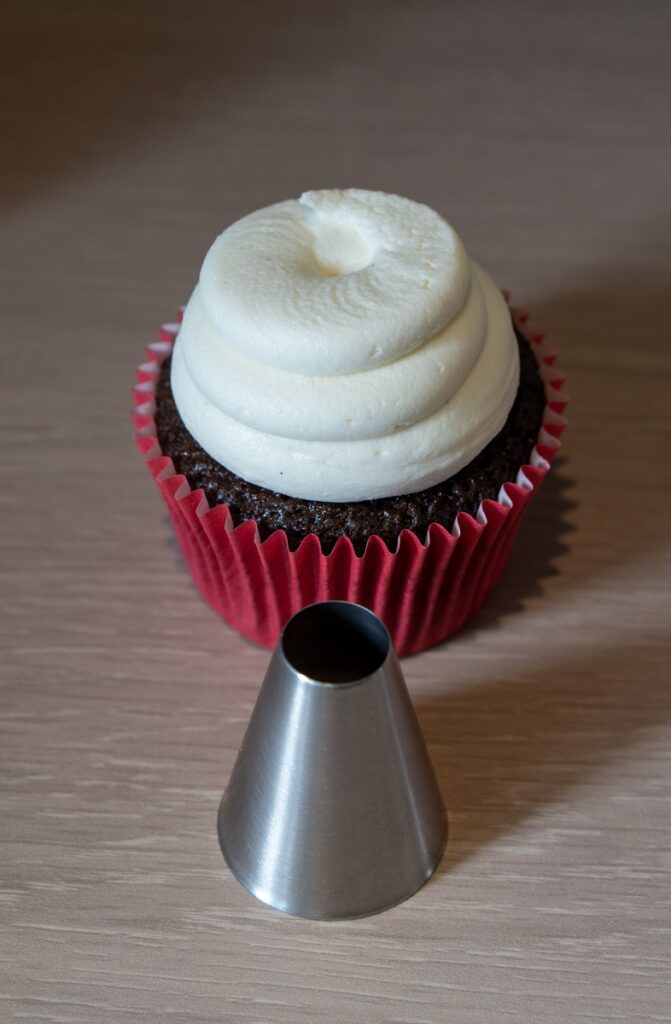 This has got to be my most-used piping nozzle. I purchased this as part of a kit from Lakeland a few years ago and it has served me very well. It is the perfect piping tip for cupcakes – the decoration reminds me of soft-serve ice cream, which just makes it so inviting. This nozzle also works wonders with two-toned frosting.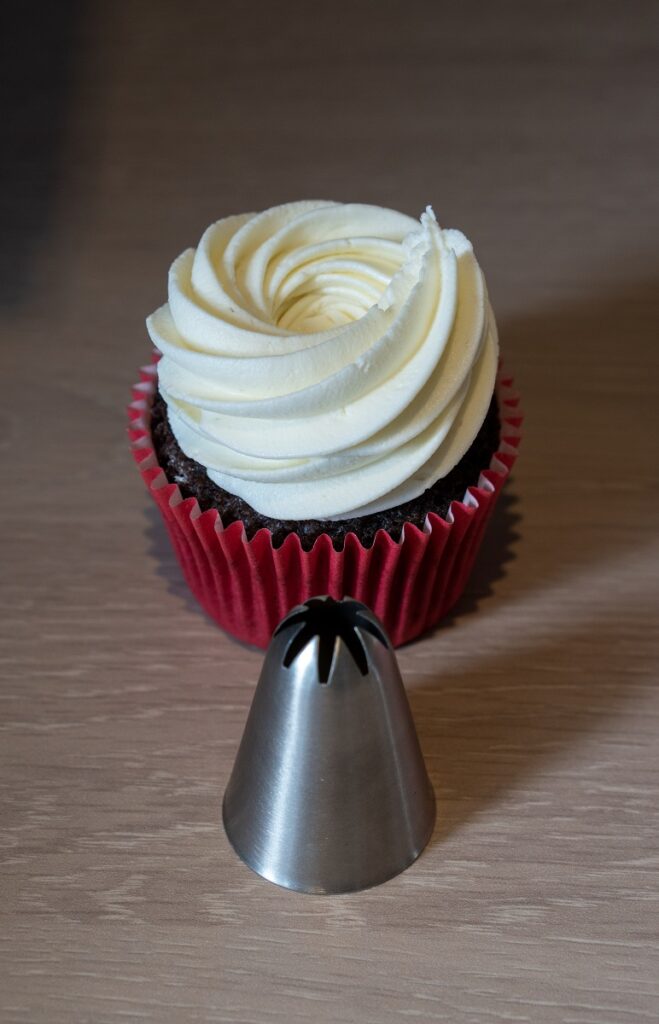 The Wilton 2D is my go-to piping tip for buttercream roses – as you can see in the picture below. Again, start in the centre, and pipe around the cupcake in a flat swirl. You can use this nozzle for cupcakes, cakes, Viennese Whirls, meringue nests; it's very versatile and always looks fantastic.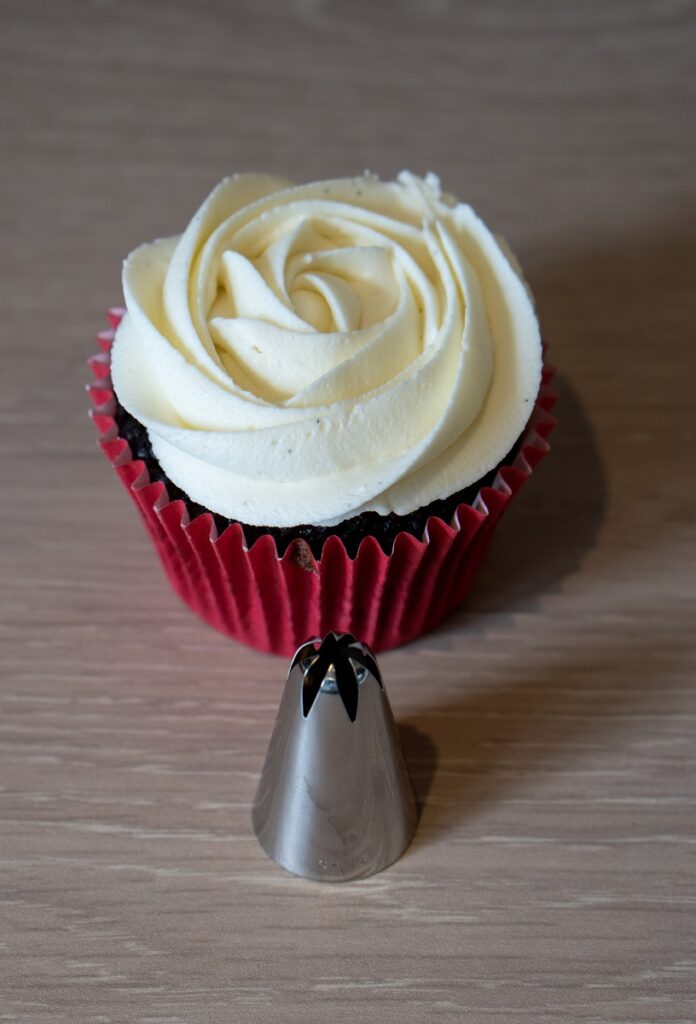 If you have an assortment of piping nozzles, then you're also going to need some good quality piping bags! I have to admit I'm not a fan of the reusable fabric piping bags, so I tend to buy large rolls of durable disposable bags which can be recycled once rinsed. My preference is Tala Non-Slip Icing Bags, which you can find here.
What's your go-to piping tip? Leave me a comment below!