If you're a popcorn fan – especially a toffee popcorn fan – then these cupcakes are for you! A soft, fluffy sponge cake with crunchy popcorn pieces and creamy toffee frosting, topped with toffee sauce and even more popcorn. What's not to love?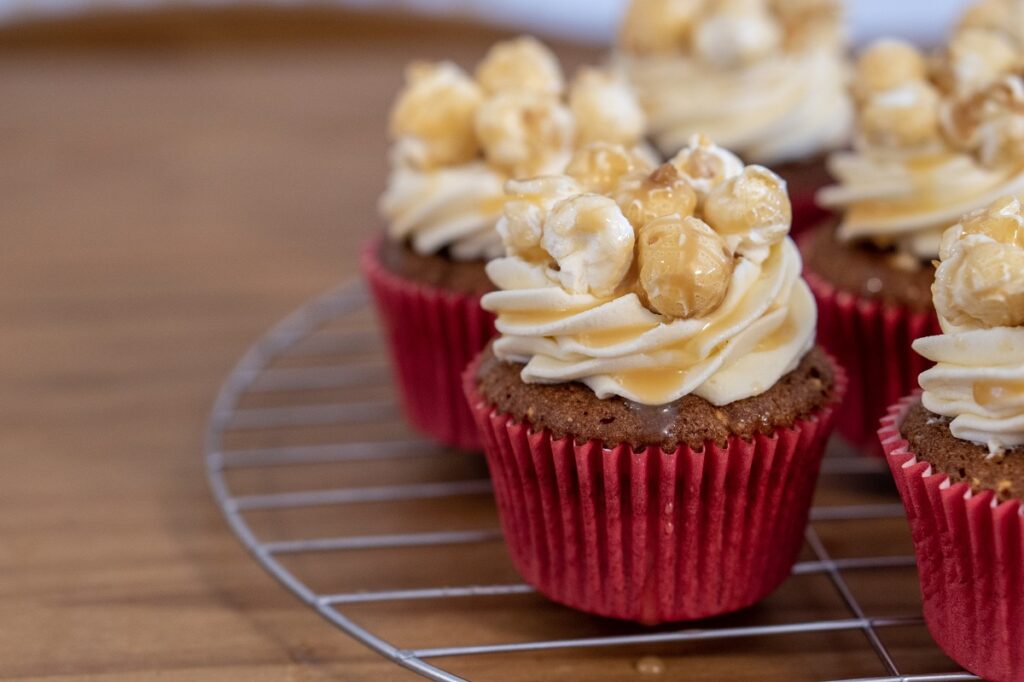 Today's cupcakes differ slightly from my base recipe; I decided to switch the usual white caster sugar for brown sugar, and I've added in a couple of tablespoons of toffee sauce to give them a rich toffee flavour. I've also added some crushed popcorn pieces for a lovely bit of crunch in every bite.
When it comes to the toffee sauce, you can either use a homemade sauce (you can find my sticky toffee sauce recipe here) or a store-bought sauce. Buying the sauce is obviously going to be easier and quicker, and I really love Askeys Treat Toffee Sauce, which you can find for between £1 and £1.50 in most supermarkets.
This recipe yields 12 cupcakes, so there's plenty to share with your friends and family. But if you're not quite up for sharing – and I wouldn't blame you – these cupcakes will stay fresh in an airtight container for up to three days.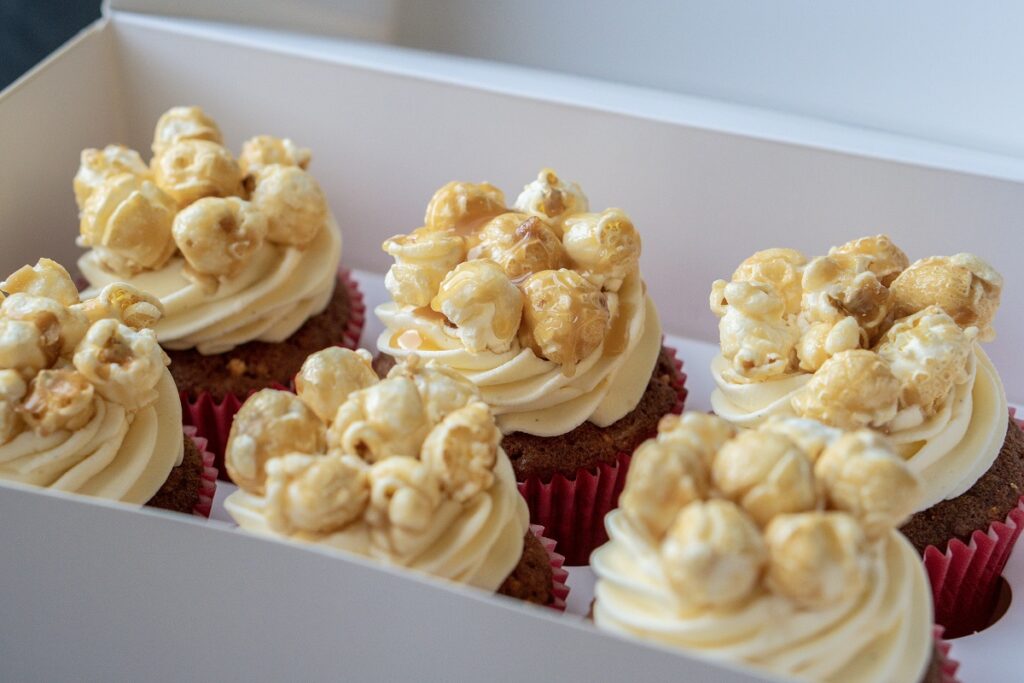 INGREDIENTS
Makes 12
Cupcakes:
160g self-raising flour
160g brown sugar
160g softened butter
3 large eggs (room temperature)
3tbsp toffee sauce
40g toffee popcorn
1 tsp baking powder
1tsp vanilla extract
Buttercream:
600g icing sugar (confectioner's sugar)
250g softened unsalted butter
4tbsp toffee sauce
1 tsp vanilla extract
Toffee popcorn to decorate
METHOD
Start by making the cupcakes. Pre-heat your oven to 160°C (320°F, gas mark 4) and place 12 cupcake cases into a muffin tin. Tip the toffee popcorn into food processor and pulse into small pieces.


Sift the flour, baking powder and a pinch of salt into a large bowl and set aside. Add the butter and brown sugar to a separate bowl and cream together using a hand-held mixer until pale and fluffy. Add the toffee sauce and vanilla extract, followed by the eggs one at a time, mixing between each addition.


Pour the egg mixture into the flour and combine, then fold in the toffee popcorn pieces. Scoop the batter into the prepared cupcake cases, filling to about two thirds of the way, and bake for 20 minutes.


While your cupcakes are in the oven, make a start on your buttercream. Using a stand mixer or hand-held mixer, beat the butter on a medium-high speed for five minutes until it goes pale and gains some volume. You may need to stop your mixer and scrape down the bowl a couple of times.


Sift in the icing sugar a couple of tablespoons at a time, lightly mixing using a spatula before beating on a low setting between each addition. Repeat until you've used all of your icing sugar. Add the toffee sauce and vanilla extract and mix until fully incorporated.


Take your cupcakes out of the oven and leave to cool in the tin for 10 minutes before moving to a wire rack to cool completely. Add your buttercream to piping bag fitted with your favourite nozzle, pipe out a swirl and decorate with toffee popcorn pieces.
Don't forget to leave me a comment in the box below – I'd love to hear your feedback!