We all get cravings for something rich and chocolatey every once in a while, and whipping up a batch of these delicious brownies will definitely hit the spot!
Brownie recipes will always fall into one of two camps – cakey brownies or fudgy brownies. Both are delicious and are easy to make, but you'll find that everyone prefers one or the other. There are a few different things that set them apart, and these differences ultimately comes down to fat-to-flour ratio, as well as the presence of a raising agent.
Cakey brownies, as the name would suggest, are similar to a good slice of chocolate cake. Due to a higher content of flour, less fat and the addition of baking powder, they have a light, airy texture.
On the other side of the fence is the fudgy brownie. This brownie variety involves a lot more chocolate and butter, which are melted together and combined with less flour to produce a gooey, melt-in-your-mouth texture.
I'm a fudgy brownie lover at heart, which is why this is one of the first ever recipes I learnt off by heart! I hope you love it as much as I do…
INGREDIENTS
200g milk chocolate
100g dark chocolate
3 large eggs (room temperature)
250g caster sugar
250g butter
80g self-raising flour
40g cocoa powder
1tsp vanilla bean paste
METHOD
Pre-heat your oven to 170°C (340°F) and line a 10 x 10 inch baking tin with baking parchment (aka greaseproof paper).


Fill a medium sized saucepan about an inch full of boiling water and bring to a simmer over a low heat. Break up the chocolate, cut the butter into cubes and add to a heatproof bowl. Place the bowl on top of the saucepan, making sure it isn't touching the water.  


While the chocolate and butter are melting, break the eggs into a separate bowl. Add the sugar and vanilla bean paste, and whisk until pale and fluffy. Pour in the melted chocolate mixture and whisk to combine.


Sift the flour and cocoa powder into the bowl and fold together. Pour the batter into your prepared tin and smooth right to the edges. Bake for 25-30 minutes.


Test to see if your brownies are cooked through by inserting a toothpick into the centre of the tin. If it comes out clean, your brownies are ready. If not, leave in the oven for a few more minutes, then test again. Once your brownies are done, remove the tin from the oven. Leave to cool for a few minutes in the tin before transferring to a wire rack to cool completely.


Cut your brownies into squares and dig in!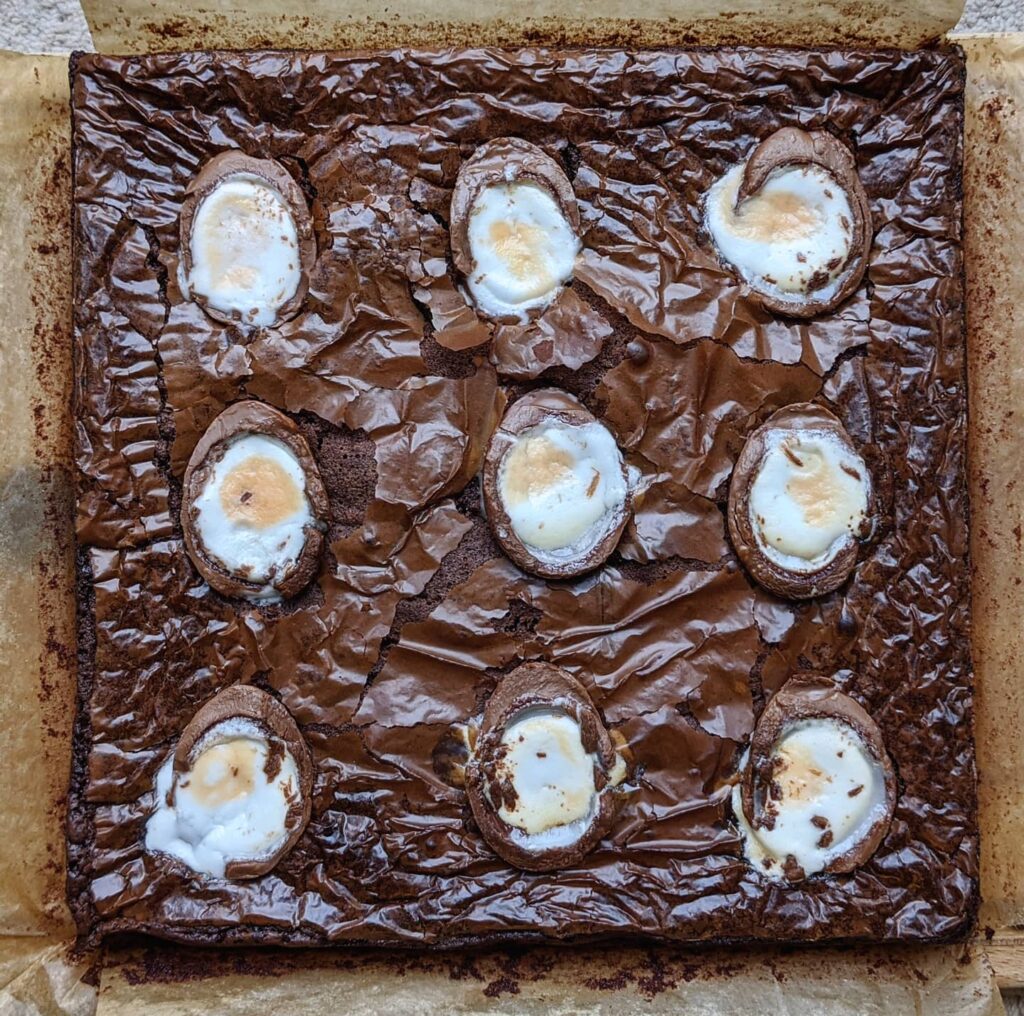 Have you tried this recipe? Let me know how you got on in the comments below – I'd love to hear from you!